Good luck to the Junior High Boys team tonight as they play L'Anse @ HOME! Come out and cheer for the boys- 5:30pm. GO VIKINGS 🏀🏀

Just a reminder of the upcoming home events for the rest of the week: Jr High GBB Championship Game :Thursday 6:30pm vrs L'Anse JV/Varsity Volleyball: Friday 5:30/6:30pm vrs Chassell (Parents Night & Senior Night)

Tonights Junior High Football game has been cancelled. They can return their jerseys at the football locker room right after school today.

Don't forget to catch all the games (JV/V volleyball @ Ironwood and the 7th grade girls basketball tournament @ Home ) on the NFHS network!

Attention: All junior high boys (6-8th) who are interested in playing basketball this year will need to report to the Library at lunch tomorrow for a meeting with Coach. Make sure to complete your paperwork and physical if you have not already done so! Forms are in the high school office and the Athletic Director's office.

ATTENTION: The powder puff game is now scheduled for tomorrow 10/11 at 7:30pm. Come out and watch some touch football !!

Good luck to the junior high girls basketball on their games tonight at Ontonagon! 4pm 7th grade and 5:15pm 8th grade 🏀

Attention: The Junior High GBB Game @ Calumet has been rescheduled for Tuesday, 10/11. 7th grade will be at 4:00pm and 8th grade will be at 5:15pm. GO VIKINGS!

UPDATE: Tonights volleyball game will be VARSITY ONLY. The JV game has been cancelled. We will be at 5:30pm! GO VIKINGS
FALL SPORTS PICTURES The Volleyball (JV & V), Cross Country (JR High & HS), and the 7th grade girls' basketball team will have INDIVIDUAL & TEAM pictures on Sept 24 after school. Whether purchasing pictures or not YOU MUST ATTEND for the team pictures. Packets will be in the HS office soon. See Ms Kraft-Lake if you have any questions
SPORTS EVENTS START THIS WEEK....... HOME VB Copper Mountain PreSeason Tourney Friday 8/20 starting at 10 am. Tickets will be sold at the door (Spectators are welcome) Seating will be limited due to using 2 courts for the event. This Tourney will be on the NHFS Network for those that purchase a subscription. It is no longer legal w MSHAA for us to Facebook live. A link will be provided tomorrow. Football teams will also be AWAY scrimmaging this week. Good Luck to all teams.
FALL SPORTS REMINDER: —HS Football starts Aug 9 —HS Volleyball & CC start Aug 11 —JR High GBB & Football start date is August 23. Every student that participates will need a physical BEFORE they can start practice - so please schedule your physical now if you haven't already done so. They also need four other different permission forms before they can start as well. All forms can be found on our "Baraga Athletics" website (under documents and then under yearly forms for athletes). You can also pick up hardcopies of these forms in the high school office with Tracy - however the office has limited hours during the summer so please call to make sure someone is there. Call/Text Ms. Kraft-Lake if you have any questions 201-1300.
TOMORROWS GBB REGIONAL SEMIFINAL GAME! Baraga vs ETC @ Jeffers 7 pm The girls will leave at 4:30 from the school. If you would like to wish the girls Good Luck in person .....you may (meet at the school) or (line the road from the school on 38 down to 41) to show them some love!! I have some extra codes (so contact me) if you want to purchase your tickets early - if not tickets will go for public sale at NOON tomorrow at...
https://gofan.co/app/school/MI19251
#3PEAT #vikingstrong
BASKETBALL PARENT/FAN INFO ---2 Adult Spectators per player/coach ---No Vouchers (We will have you sign your name (at the ticket table) next to your player/coach that will signify that you have no symptoms and that you will follow safety protocols) ---Games Will Be Streamed (Baraga and a few other schools will stream for free on Facebook – while others have chosen to use the NFHS system which you will have to pay for. I will keep you up to date on how you can view each game) ---Be Positive (Please remember many local athletes are discouraged by their circumstances, we are doing our best to help them see the positives and help them have the best season that they can…. Keep it going at home and our community.) ---Have Appropriate Expectations (Remember training venues have been closed , coaching/contact has been virtual since last season, and all teams have only been having non-contact for the past couple of weeks. ---Be Flexible (While the season is starting remember we still will have issues with games being moved last minute and reschedule at possibly inconvenient times due to positive Covid tests and contacts as well as weather. LET'S DO OUR PART TO HELP THESE KIDS HAVE THE BEST SEASON POSSIBLE #VIKINGSTRONG
More Local information is coming.....but here is what we know now. Dear MHSAA Community, Earlier today, MDHHS released an updated emergency order that goes into effect on Monday, Feb. 8, which will allow full practices in winter contact sports to begin with competition to follow. Here is the updated listing of the winter contact sports tournament dates with new "first contest" dates. Remember that regular season contests can be scheduled in all winter sports up until the date of the MHSAA Finals in each sport as long as schools stay within the weekly limits (e.g. maximum of 3 basketball games in a week). Girls Basketball First contest: Feb. 8 Districts: March 22, 24, 26 Regionals: March 29, 31 Quarterfinals: April 5 Semifinals: April 7 Finals: April 9 Boys Basketball First contest: Feb. 8 Districts: March 23, 25, 27 Regionals: March 30, April 1 Quarterfinals: April 6 Semifinals: April 8 Finals: April 10 Competitive Cheer First contest: Feb. 12 Districts: March 17-20 Regionals: March 23-24 Finals: March 26-27 Ice Hockey First contest: Feb. 8 Regionals: March 15-20 Quarterfinals: March 23-24 Semifinals: March 25-26 Finals: March 27 Wrestling First contest: Feb. 12 Districts: Team- Mar. 17-18; Individual- Mar. 20 Regionals: Team- Mar. 24; Individual- Mar. 27 Team Finals: March 30 Individual Finals: April 2-3 Note that the first allowed contest date for basketball and ice hockey is next Monday, Feb. 8. While we understand that many basketball schools are still finalizing teams after a few days of contact practice have been completed, the MHSAA wanted to give schools as much scheduling flexibility and local control as possible in terms of setting ice time and finalizing gym schedules for practices and games next week. As a scheduling reminder, the season limits of competition remain unchanged for all winter sports, and the weekly limits of competition also remain unchanged in all sports except for these two modifications for 20-21 in ice hockey and wrestling. In ice hockey, teams may play two games on one non-school day a maximum of two times during the season. When the two games/one day option is used, ice hockey teams could play 4 games (on three dates) in those two weeks. For high school wrestling, teams and individuals are allowed two days of competition in a week. Remember that all regular season wrestling competition is limited to 4 teams at a site (3 matches per student per day of competition). For middle school wrestling, one day of competition in a week is allowed. Again, all regular season wrestling competition is limited to 4 teams at a site (3 matches per student per day of competition). Schools and/or leagues may elect to play fewer games or use fewer days of competition. Mask Requirements and Testing Options: Basketball & Ice Hockey: Schools, teams and individuals must wear a mask at all times, including during active participation (while "in the game") during all practices and competition. For schools, teams and individuals that are "masked" at all times during practices and games, there is no COVID rapid testing requirement for practice and play. We are waiting on further guidance and details from MDHHS relative to testing requirements should teams/individuals in these two sports wish to use the testing option. Wrestling: To be eligible to compete, all wrestlers must complete a negative rapid antigen test on the day of all meets with no exceptions. All individuals would also be subject to contract tracing and close contact requirements when positive cases or tests exist. Those tested wrestlers would be able to compete without wearing a mask during the match but masks would be required of all individuals at all other times during meets and practices. This is required for wrestling as published in the MDHHS FAQ document. Competitive Cheer: Masks are required for all participants when not in active participation on the mat. While in active participation on the mat, athletes may wear face masks but are not required to do so given this sport is always conducted with the same teammates and opponents are never in physical contact or within physical proximity of each other. Face masks are required during practices, however, the mask may be removed while stunting and tumbling. Testing Information: MDHHS will make rapid tests available at no charge to all wrestling schools along with other schools and sports that wish to test participants. Schools will need to order tests from the MDHHS and those will be shipped to the local ISD facility for pick-up. All participants would also be subject to all contract tracing and close contact requirements when positive cases or tests exist. Many more details on testing information (ordering, shipping, conducting, reporting, requirements, etc) will be available from the MDHHS very soon. These same requirements would be in place for those junior high/middle schools that wish to play these four winter contact sports.
Sports Update 1/22/21 Dear MHSAA Community, Governor Whitmer's press conference this morning included brand new information for the MHSAA and member schools relative to winter contact sports. We did not anticipate this delay in winter contact practices and competition, and today's announcement has created many new questions. That being said, we are currently working to obtain further information on the MDHHS order. There are no changes to current winter sports practices in basketball, competitive cheer, ice hockey and wrestling as those activities can continue with no physical contact, using social distancing and face masks. The same is true for fall and spring sport 4-player workouts being able to continue now. The Representative Council and our staff will be using the next few days to gather all information and discuss current options. Know that the MHSAA remains FULLY committed to winter and spring sport seasons as this latest set of hurdles will require continued creativity in finding the way for both remaining seasons to be played. Further information with updated details will reach you early next week. Thank you. Mark Uyl MHSAA Executive Director
New Athletic Cage For Spring Sports Baraga Athletics has a new multipurpose cage to help our softball, track and golf teams prepare for our competitions. Now our athletes will be able to bat, pitch, hit golf balls and throw shot and disk indoors. Thanks to Ben Johnson and our golf coach Tim Marzcak for putting this together for us. Tim was willing to take the inaugural first hit into our net and it works like a charm. As usual ... thanks to everyone who donates, or participates in one of our fundraisers. Every dime goes to purchasing something new to train our athletes or for our gym! If anyone is looking to donate $ for tax purposes, please have them contact Amy Kraft-Lake or the school. Every penny is appreciated to help make Baraga Athletics better for our students.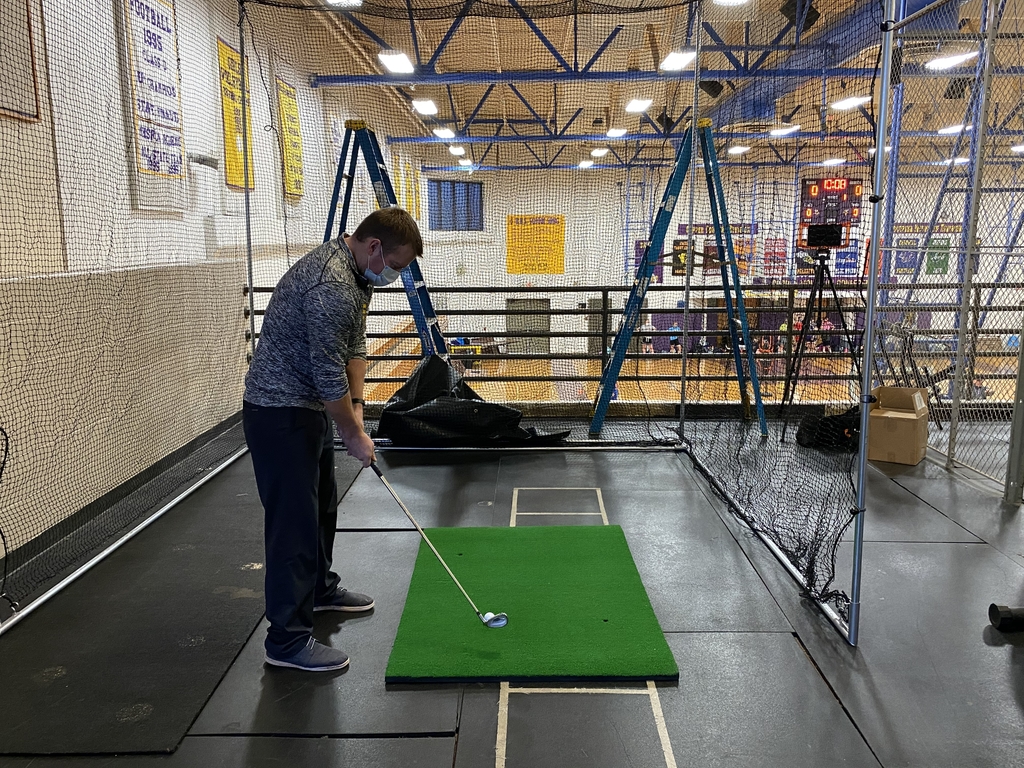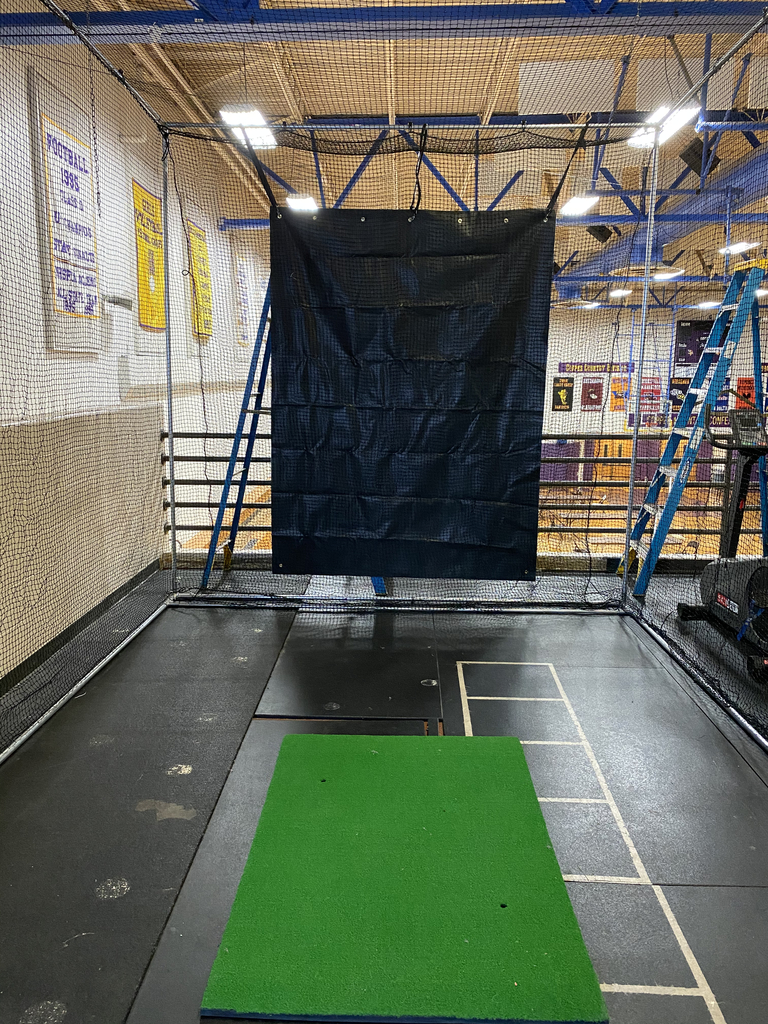 Updated MHSAA Winter Calendar for Basketball, Ice Hockey : The Council approved a plan for adjusting schedules for the five Winter "contact" sports which may begin non-contact practices on Jan. 16 but must delay any activities that involve physical contact between individuals until Feb. 1 per the recent update to the MDHHS epidemic plan. The updated schedule for girls and boys basketball, competitive cheer, ice hockey and wrestling pushes Finals for those sports into late March or early April. The Council approved the following dates: Girls Basketball First non-contact practice: Jan. 16 First contact practice: Feb. 1 First contest: Feb. 4 Districts: March 22, 24, 26 Regionals: March 29, 31 Quarterfinals: April 5 Semifinals: April 7 Finals: April 9 Boys Basketball First non-contact practice: Jan. 16 First contact practice: Feb. 1 First contest: Feb. 4 Districts: March 23, 25, 27 Regionals: March 30, April 1 Quarterfinals: April 6 Semifinals: April 8 Finals: April 10 Ice Hockey First non-contact practice: Jan. 16 First contact practice: Feb. 1 First contest: Feb. 1 Regionals: March 15-20 Quarterfinals: March 23 Semifinals: March 25-26 Finals: March 27