Senior Steele Jondreau receives post season football honors on the L'Anse Hornet Football Team.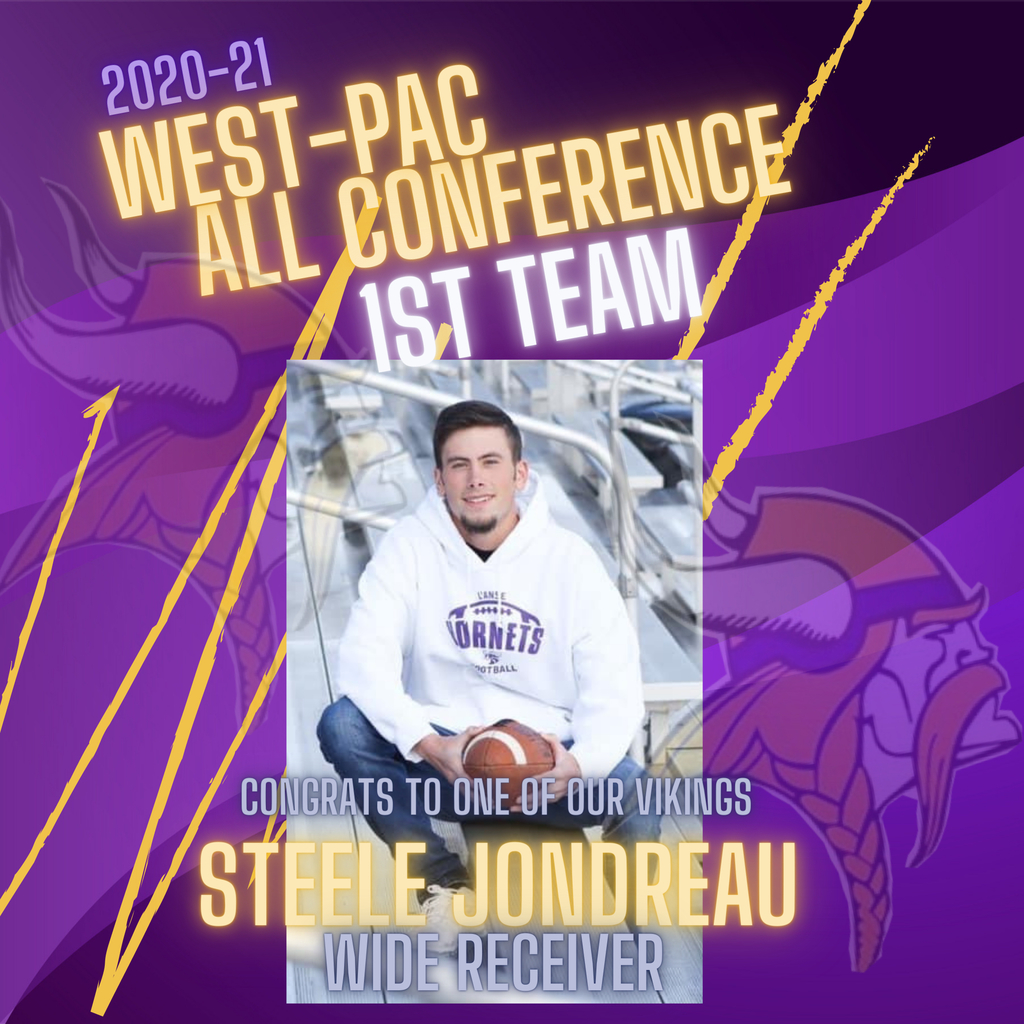 ***FOOTBALL PLAYOFF TICKETS*** Here is an update on ticket sales and info for the playoff football game this Saturday in Traverse City. Ticket sales will be online. All tickets will be purchased online. St. Francis High School vs. L'Anse High School Event Link:
https://gofan.co/app/events/128062
Spectators will be able to purchase online tickets at the gate as well (they will have an iPad available), and will accept cash at the gate for those who miss the online information. Spectator gates will open at 5:15. There will be concession stand for spectators The game will also be livestreamed on NFHS network and broadcast on 89.9 WLJN.
https://www.google.com/.../data=!4m5!3m4!1s0x0
...
***Athletic Calendar Changes This Week*** Due to COVID cancellations in other school districts there have been many changes to our athletic schedule which affect Volleyball, JRHBB and Open gyms. Please go to..
https://www.baragaschools.org/o/baragaathletics/events
for the most updated schedule. Please make sure you "REFRESH" to see changes.
***ATHLETIC ELIGIBILITY ON APEX*** For anyone taking online schooling on APEX and who wants to participate in athletics the requirement are the same as in school. 1. You must be passing 5 out of 7 of your classes. 2. Passing means that you are at the proper due date for each of your classes and above a 60%. Examples of being Ineligible ... ---Amy has only started 4 out of her 7 classes because she likes to work on only 1 or 2 at a time (Ineligible) ---Amy is on Unit 1 but Unit 3 is due next week (Ineligible) ---Amy is on Unit 3 and Unit 3 is due next week but she is at a 58% (Ineligible) Hope this clears things up for any online athletes. If you have anymore questions....please call.
***Questions about Printed Athletic Programs?*** If there is a mistake on any of the athletic programs please contact Tracy in the High School office (353-6661) and she will gladly make the correction for you. Our staff is currently overwhelmed by the recent changes in academics and athletics and things will get missed and overlooked. Please be kind and help us out by contacting Tracy directly. Thank You
***8th Grade Girls BB Tourney Info*** Baraga will play L'Anse in the 2nd round of the tournament at L'Anse on Wed 10/21 at 5pm. GO VIKINGS!!!
Parents: Vouchers for tonight's JHRGBB Game in Houghton will be handed out in Houghton (See Coach Jahfetson for them) Game time is approx at 5:15 for the 8th grade game only. Go Vikings!!!
***JRHGBB GAME UPDATE*** We have picked up a game with Lake Linden for this Monday 10/12. It will be a 8th grade HOME game @ 5:30 with a 5th quarter at the end so that our 6/7s grade can play as well. MASKS WILL BE REQUIRED
Remaining Schedule for JRHGBB for the 20/21 Season Thu 10/15 Houghton A 4:15/5:15 8th Grade Tourney Mon 10/19 Lake Linden A 5:00 Wed 10/21 TBD Thu 10/22 TBD
Remaining Volleyball Schedule for 20/21 Season Thu 10/15 Lake Linden Home 5:30/6:30 -, JV, V Tue 10/20 ETC (Varsity Only) A 6:00 -, JV, V Thu 10/22 Bessemer A 5:00/6:00/7:00 F, JV, V Fri 10/23 Chassell Home 5:30/6:30 -, JV, V (PARENTS NITE) Mon 10/26 L'Anse A 4:30/5:30/6:30 F, JV, V Tue 10/27 Ontonagon A 5:45/6:45 -, JV, V Fri 10/30 Dollar Bay (Varsity Only) A 6:30 V Districts 11/2 - HOME (Baraga vs Chassell) 6pm 11/4 - TBD 11/5 - TBD
Unfortunately we were just told that the Baraga Watersmeet Volleyball game tomorrow (October 6) is canceled due to Watersmeet having sick players.
Varsity (Only) Volleyball Game vs. Watersmeet at HOME tomorrow Tuesday Oct 6th at 5:30. Go Vikings!!!
FYI...Game Schedules Please be paitent as we sort out our athletic schedules. Things are changing daily with every school - I will post as soon as we have something concrete to give you.
JrHGBB Game Tonight 9/28 will be AT ONTONAGON 6pm Go Vikings!!!!
JRHGBB GAME CHANGE... We are moving our previous scheduled game with Ontonagon forward and we will play it on Monday 9/28 - THIS WILL BE AT ONTONAGON. The 8th grade will play at 6:00 with a 5th quarter at the end of the game for our 7th grade players.
Good Luck to our Football Players this week! JV @ WIC tonight at 6:30 Varsity vs WIC @ HOME tomorrow at 7:00 Varsity Game will be broadcast on K-BEAR radio
SPORTS UPDATE FOR TUES 9/22 CANCELED EVENTS ***Volleyball game vs Jeffers ***Jr High Football Game EVENTS THAT WILL HAPPEN ***HS Football practice3:30-5:30 ***HS Cross Country practice 3:30-5:30 ***Jr High Girls Basketball Practice 3:30-6
There will be NO BARAGA ATHLETICS TODAY Due to a confirmed case of coronavirus identified at Baraga Area Schools. All practices or games at Baraga or by Baraga athletes in co-op'd sports are cancelled for to allow for thorough contact tracing. This is for today only, and we are working with the CDC/Health Dept for further guidance. We will post as soon as we know something more.
Baraga Vikings volleyball sweeps L'Anse in all three matches tonight! #vikingstrong
Time changes for the JRHGBB game at L'Anse on Thursday 9/17 7th grade (scrimmage) at 5:00 8th grade (game) right after the seventh grade game.