TRIO Pre-College Programs, hosted by Michigan Technological University, provides eligible participants free academic guidance, career exploration, cultural activities, traveling experiences, and field trips to tour trade schools, community colleges, and universities. Its two programs, TRIO Talent Search (grades 6-12) and TRIO Upward Bound (grades 9-12) are now accepting applications! Visit
www.mtu.edu/outreach/trio
for more information and to apply. Paper applications are available by calling 906- 487-2219.
Wear your PJs, and join the Grinch for breakfast on December 9th in the elementary gym! This is to raise money for the Baraga Travel Club's trip to Europe in 2025.
SLACK is collecting donations for Simple Kindness for Youth. Their mission is to help young people build and maintain their self-esteem by providing means to access basic needs, enable them to feel accepted with their peers, and enable access to educational activities and community participation. Collection jars will be located in the elementary and high school offices. Help if you can!
Students at Baraga Area Schools enjoyed a Pow Wow on Thursday, November 9, 2023. They learned about different drumming and native culture. Dancing was enjoyed by the majority of students.
Parents and community members are invited to the Stop Trafficking Project presentation. Please see the flyer for details.
If your daughter signed up for middle school strength training, we will begin on Tuesday, November 7th in the school weight room. Bring clean shoes and a water bottle!
Upcoming event!
Join us for Parent/Teacher Conferences!
Today we have a special Staff Shout in honor of the last day of October, which is Fire Safety Month. Our very own Elementary Special Education Teacher, Rachael Lassi, is also the fire chief for the Covington Fire Department! She is passionate about educating people about fire safety and keeping our community safe. We appreciate all you do for our school and for our community!
The TV6 Canathon starts on Wednesday and runs till December 1st. Send in your non-perishable items to help feed a hungry neighbor!
Copper Country Snowsports Club is a non-profit, volunteer, parent-run, family-oriented organization dedicated to the development of skiing and snowboarding skills in the Keweenaw. CCSC strives to provide a fun learning environment where every child has the opportunity to discover and reach his or her potential in the challenging, life-long sport of skiing and snowboarding. Come learn more at the informational meeting on Monday, November 6th at 6:30 pm in the Mont Ripley chalet. We will be going over the schedule, costs, and needed equipment. CCSC consists of programs geared toward proficient skiers and snowboarders who are independent, riding the lift on their own, as well as those who are looking to bring their skiing to the next level! Any questions can be sent to
coppercountrysnowsports@gmail.com
or by visiting our website at
www.coppercountrysnowsports.org
Today's Staff Shout Out is Betsey Leinonen! Betsey joined our Viking Family last year and has been teaching Ojibwe Language K-12. Having the opportunity for our students to learn the language and culture of the Ojibwe people is so important, and we are grateful for Betsey's dedication and enthusiasm for her culture. Thank you for all you do, Betsey!
Digital art class is looking for photos of Veterans who are related to our current K-12 students. They will be used in a slideshow at our Veterans Day Program. See digital flyer for details on what/where to send.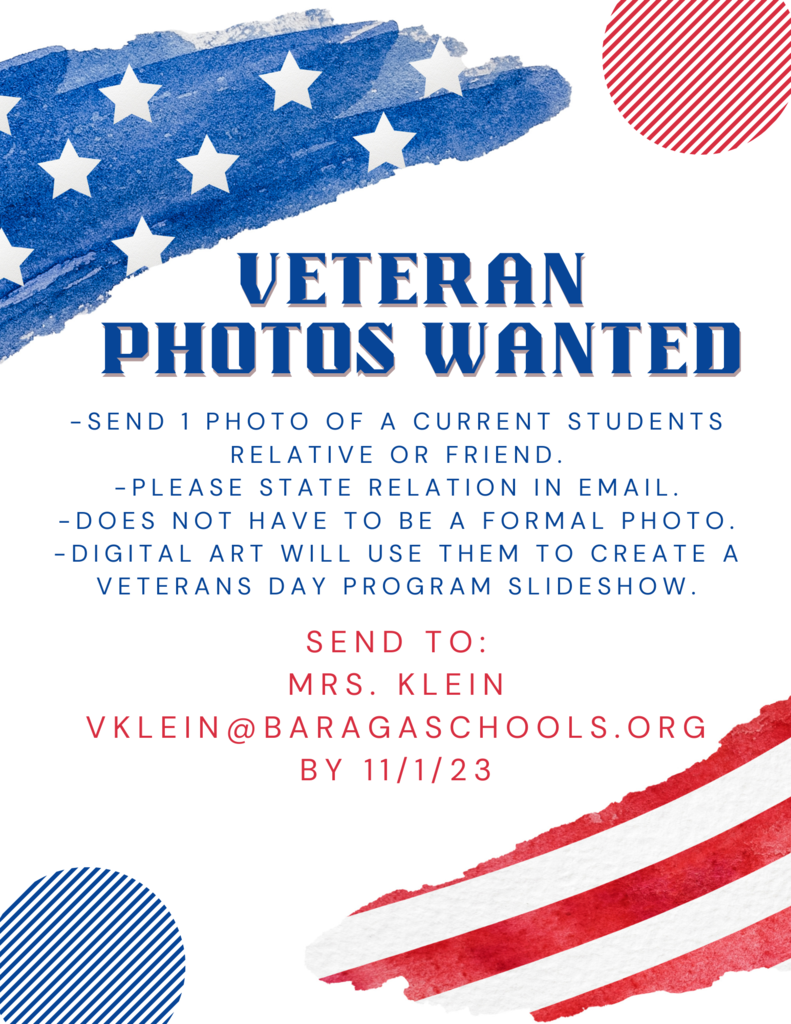 Reminder! We have a parent meeting on Thursday at 6:00 PM in Mrs. Rinkinen's classroom for the new travel club trip plans. This is an opportunity to sign up, ask questions, and get more information. We can also discuss future trip ideas and fundraisers. I would love to see this club take off and become a way for more of our kids to see the world before graduating! To RSVP to the meeting (please do this so I can make sure to have enough materials), click this link!
https://bit.ly/3LVnuEj
Today's Staff Shout Out is for Ms. Stephanie Gezequal! Stephanie joined our Viking Family in the middle of the pandemic craziness, and she has been an amazing addition. She now teaches the middle school English classes and has remained positive and flexible, even though it was a big change from teaching high school. Thank you for all you do, Steph!
Please join us for the Veterans Day Assembly on November 8th at 9am!
LUNCH: Monday – Chicken quesadilla, salsa, corn, fruit, 1% milk Tuesday – Pretzel with cheese, yogurt, carrots, fruit ,1% milk Wednesday – Ham & Cheese sandwich, chips, carrots, fruit, 1% milk Thursday – Chicken nuggets K-5, chicken sandwich 6-12, corn, fruit,1% milk Friday – Pizza, broccoli, whole grain cookie, fruit,1% milk No salad Bar on Thurs. Oct 19th After-School tutoring:  Mondays with Ms. Cavanaugh in Rm 213  Tuesdays with Ms. Cavanaugh in Rm 213  Wednesdays with Mrs. DeShambo in Rm 211  Thursdays with Mrs. DeShambo in Rm 211  The 2nd Annual Turkey Trot will be November 18th . Please see the fliers around the school for information. Registration for the Figure Skating Club is tonight from 6-8 and Saturday, Nov. 4 th from 1-3 at Meadowbrook Areana. Junior high cheer practice today, and Tuesday and Wednesday next week after school. There is a sign-up for Middle School girls weightlifting in the office for 6-8 th graders. There will be an assembly during 6th and 7th hour on Friday for Spirit Week Friday we are having a PowderDuff Volleyball Game between our Baraga Boys and L'Anse Boys. Come out and support our boys!  Spirit Week: Tuesday: Red, White and Blue day Wednesday: Barbenheimer (Barbie or Openheimer) Thursday- Dress for a cause        6th grade- Houghton Animal Shelter (wear black and bring a stuffed animal)       7th grade- Child Support Services (wear pink)       8th grade- KBIC Shelter (wear white)       9th grade- Mental Health Services (wear green)       10th grade- National Breast Cancer Foundation (wear pink)       11th grade- Baraga Legion (wear camo)       12th grade- Type one diabetes (wear blue) Friday: Purple and Gold JH Boys basketball practice starts today after school from 3:30 – 5:00 Quarter One Reward Day During the afternoon of Wednesday, November 8 th The Press Box, Virtual Golf and Swimming Students must be passing 7 out of 7 classes, have had no major office referrals, and have fewer than 5 absences to qualify. More details to come as we get closer to the end of Quarter One. Please see Mr. Frantti if you have any questions.  ATHLETICS: Upcoming Sporting Events: Monday, 10/16 – MS girls basketball (tournament) vs Hancock @ home 6:30 Tuesday, 10/17 – JV/V Volleyball vs Ironwood 4:30 Wednesday, 10/18 – MS girls basketball Tournament Thursday, 10/19 – JV Football @ Calumet 6:30, JV/V Volleyball vs Bessemer@ home 5:30 Friday, 10/20 – JV/V Volleyball @ Chassell Saturday, 10/21- Cross Country UP Finals @ Gladstone
For today's Staff Shout Out, we are showing our appreciation for Mrs. Hillary Treadeau! Hillary has taught at Baraga for two years, and we are so lucky to have her in our Viking Family!
Today's Staff Shout Out is to our new Math teacher and Athletic Director, Tim Routheaux. We are so glad you joined our Viking Family! Thanks for all you do for our school!
10/17/2023 LUNCH: Monday – Chicken quesadilla, salsa, corn, fruit, 1% milk Tuesday – Pretzel with cheese, yogurt, carrots, fruit ,1% milk Wednesday – Ham & Cheese sandwich, chips, carrots, fruit, 1% milk Thursday – Chicken nuggets K-5, chicken sandwich 6-12, corn, fruit,1% milk Friday – Pizza, broccoli, whole grain cookie, fruit,1% milk After-School tutoring:  Mondays with Ms. Cavanaugh in Rm 213  Tuesdays with Ms. Cavanaugh in Rm 213  Wednesdays with Mrs. DeShambo in Rm 211  Thursdays with Mrs. DeShambo in Rm 211  The 2 nd Annual Turkey Trot will be November 18 th . Please see the fliers around the school for information. There will be a high school esports meeting on TODAY at lunch. Grab your lunch and come to the art room. We will be talking about upcoming practices. If you did not sign up and want to join, please come! Registration for the Figure Skating Club is this Thursday, Oct. 9 th from 6-8 and Saturday, Nov. 4 th from 1-3 at Meadowbrook Areana. Any senior interested in going to MTU next year, the admissions representative will be in the library TODAY from 10:30-11:30.  Junior High Cheerleading practice will start this Wednesday after school There is a sign-up for Middle School girls weightlifting in the office for 6-8 th graders. There will be an assembly during 6th and 7th hour on Friday for Spirit Week Bonfire/PowderPuff is on Wednesday at the Baraga Football Field. Classes are in charge of bringing the following items. You can drop off items in Mrs. Rinkinen or Mrs. Pruett's rooms anytime:        6th grade- hotdog buns         7th grade- plates/napkins        8th grade- candy bars        9th grade- chips       10th grade- marshmallows       11th grade- cases of water       12th grade- graham crackers Friday we are having a PowderDuff Volleyball Game between our Baraga Boys and L'Anse Boys. Come out and support our boys!  Spirit Week: Tuesday: Red, White and Blue day Wednesday: Barbenheimer (Barbie or Oppenheimer) Thursday- Dress for a cause        6th grade- Houghton Animal Shelter (wear black and bring a stuffed animal)       7th grade- Child Support Services (wear pink)       8th grade- KBIC Shelter (wear white)       9th grade- Mental Health Services (wear green)       10th grade- National Breast Cancer Foundation (wear pink)       11th grade- Baraga Legion (wear camo)       12th grade- Type one diabetes (wear blue) Friday: Purple and Gold JH Boys basketball practice starts Thursday after school from 3:30 – 5:00 Quarter One Reward Day During the afternoon of Wednesday, November 8 th The Press Box, Virtual Golf and Swimming Students must be passing 7 out of 7 classes, have had no major office referrals, and have fewer than 5 absences to qualify. More details to come as we get closer to the end of Quarter One. Please see Mr. Frantti if you have any questions.  ATHLETICS: Upcoming Sporting Events: Monday, 10/16 – MS girls basketball (tournament) vs Hancock @ home 6:30 Tuesday, 10/17 – JV/V Volleyball vs Ironwood 5:30 Wednesday, 10/18 – MS girls basketball Tournament