SPECIAL BOARD MEETING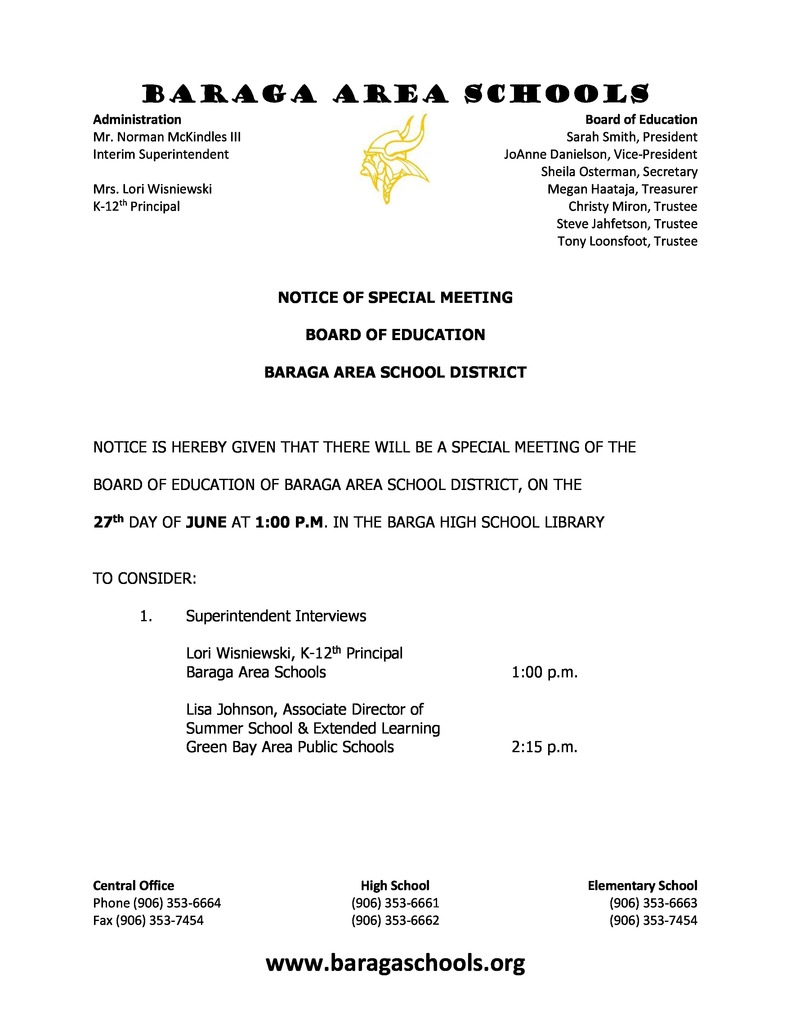 SPECIAL BOARD MEETING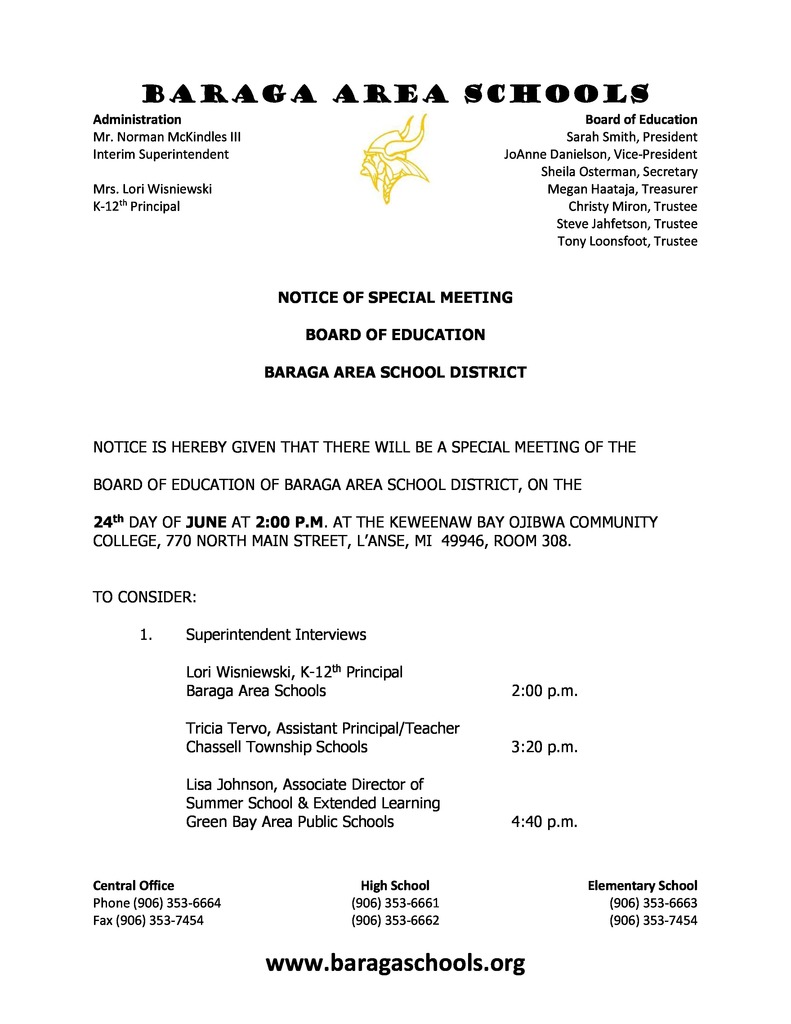 LAST CHANCE! The yearbook order deadline has been extended to June 30th. The elementary yearbook is $15 and the high school yearbook (6th-12th) is $28 soft cover/$34.95 hardcover. Orders will be shipped this summer and passed out in the fall. Use the school passcode to order online @ treering.com/validate. Elementary Passcode: 1015253110083650 High School Passcode: 1015724505332948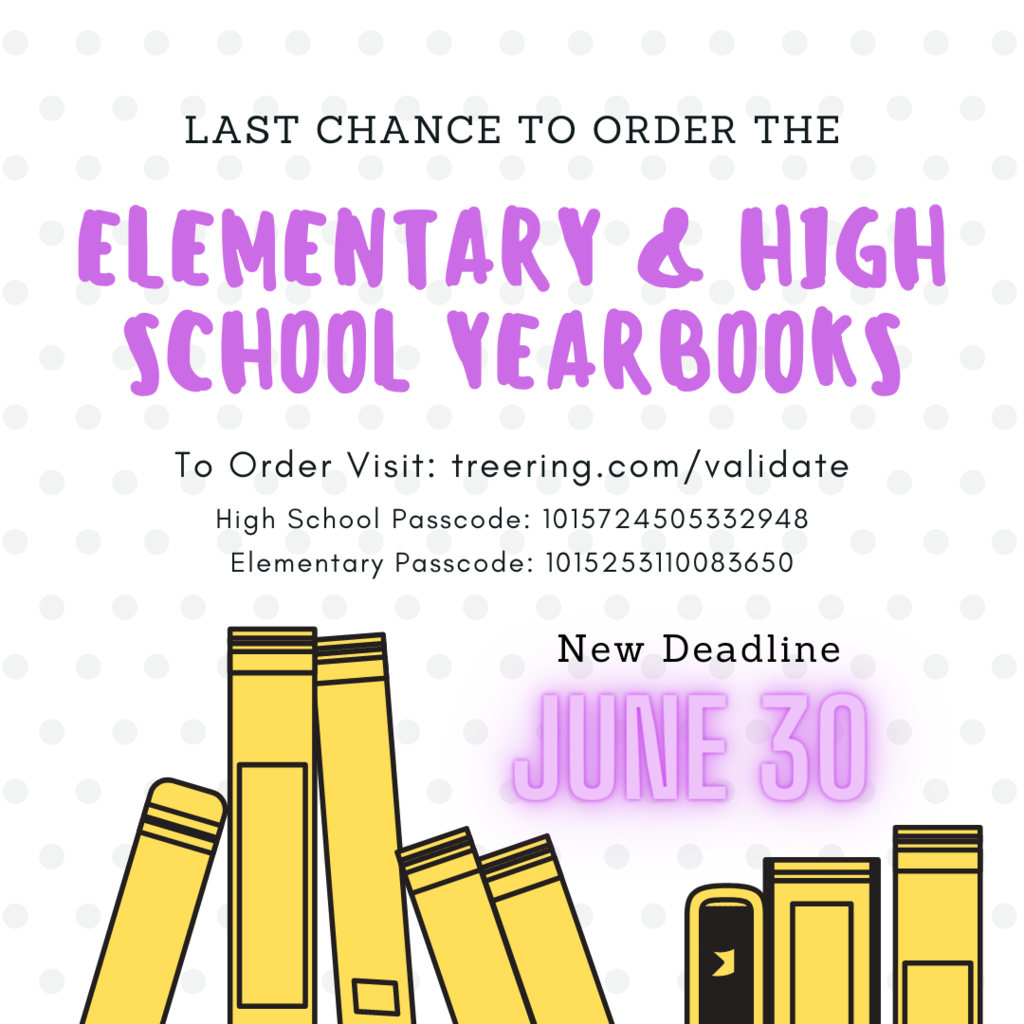 Reminder for the Class of 2022!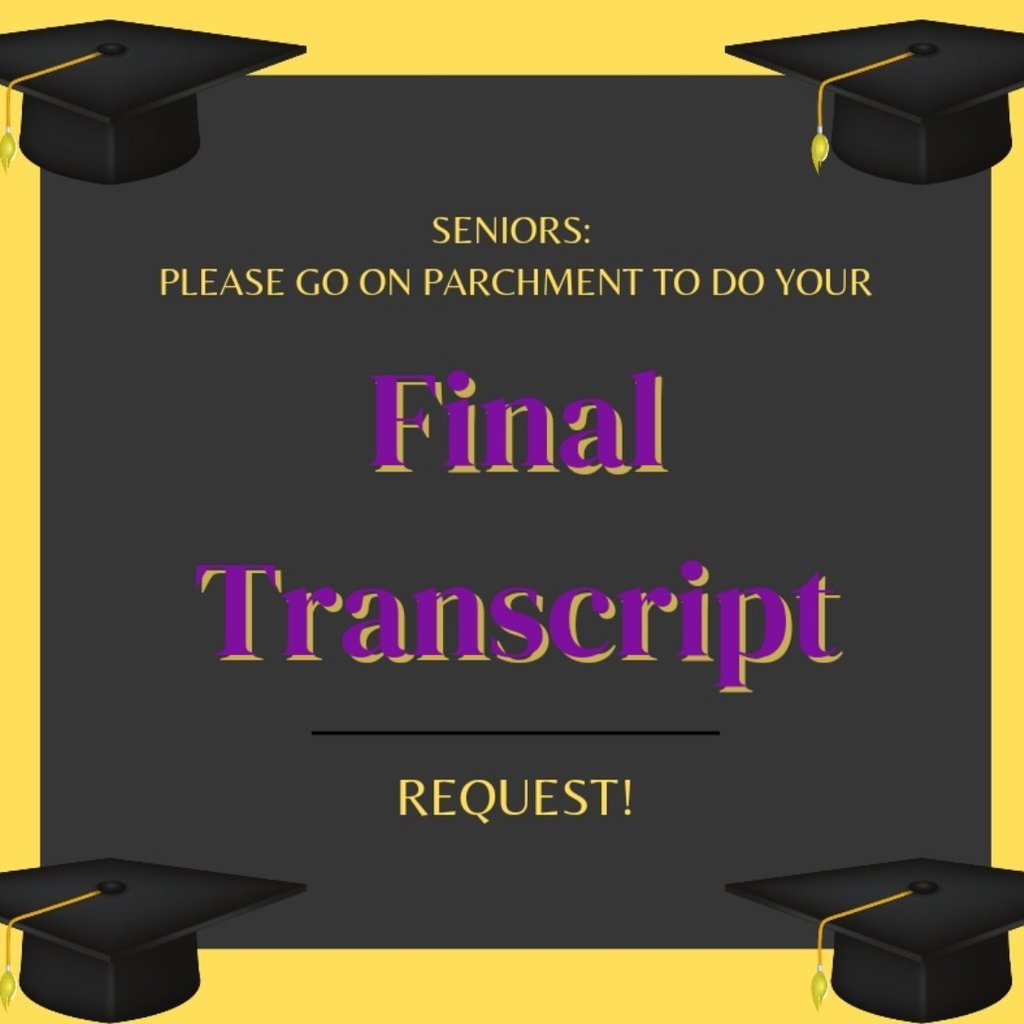 The Class of 2024 is participating in the Baraga County Rummage Sale tomorrow from 9am to 1pm at the Baraga School. Stop on by!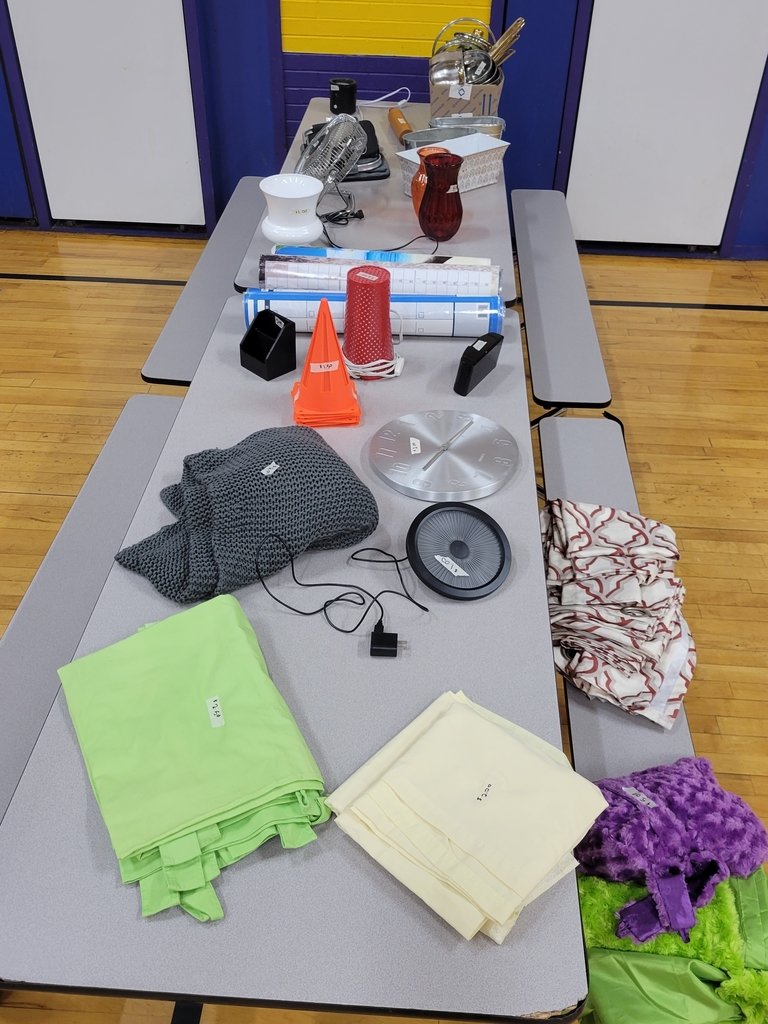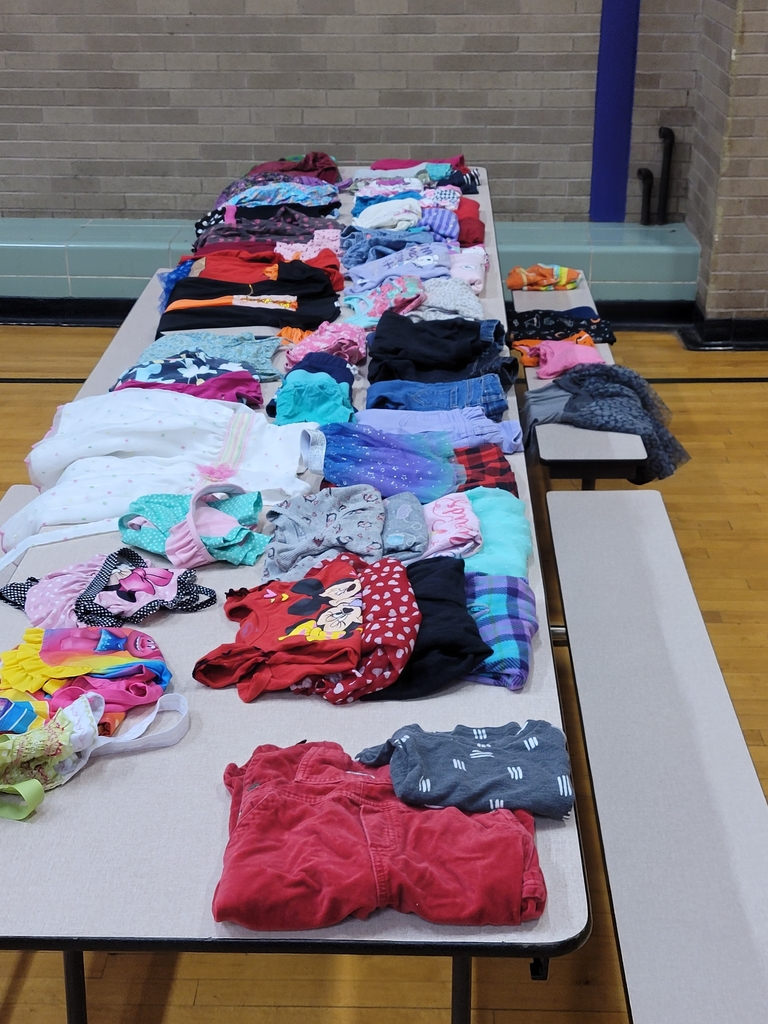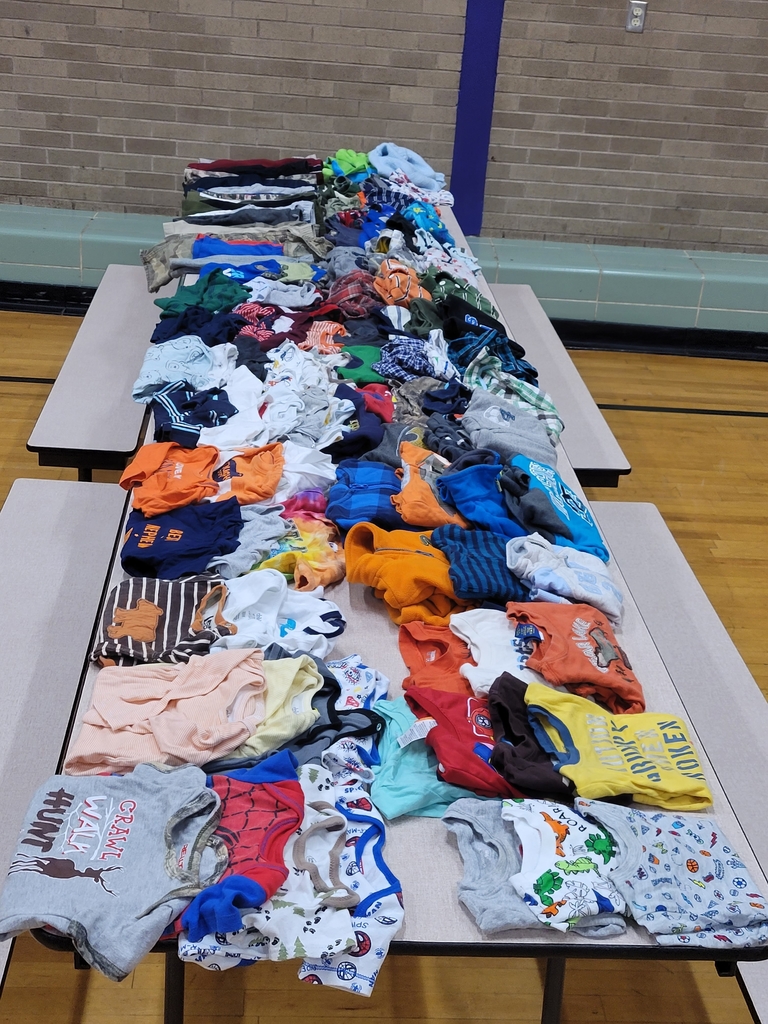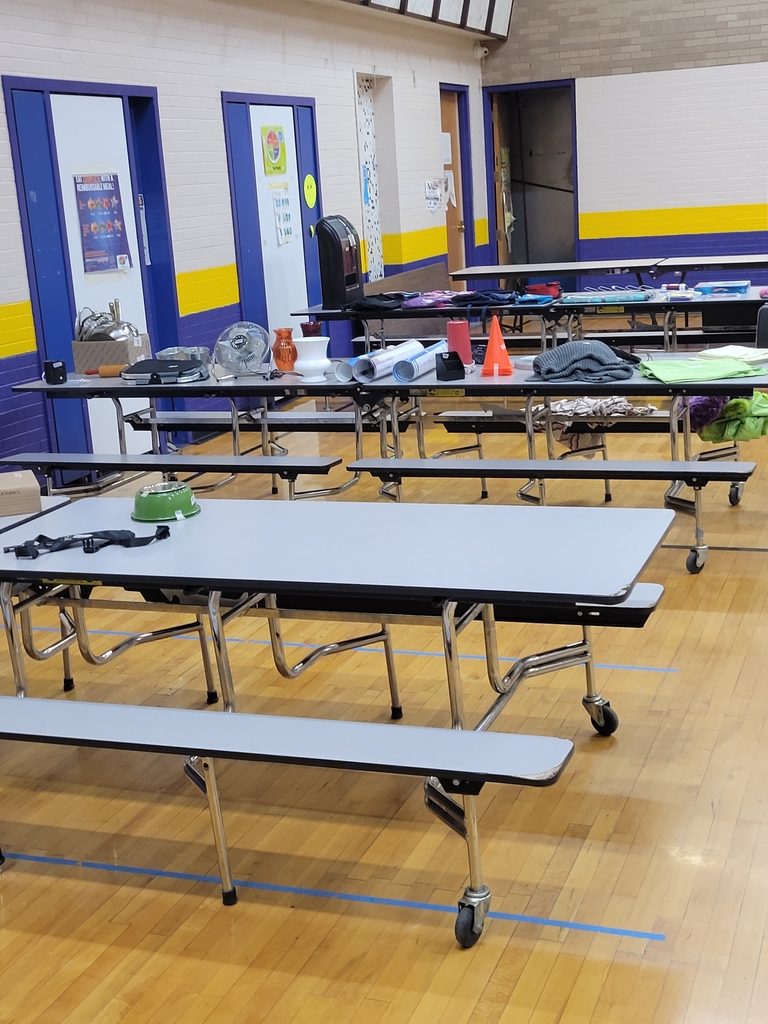 Last week our 6th-8th graders went to Camp Nesbit. We had many local programs come out to provide activities for our students. These included the KBIC NRD, Hunters Safety, an EMT and a lifeguard. Staff also provided and prepared both fun, learning activities for the students. Some of the activities included: macroinvertebrate identification, deploying and gathering fishery nets, weighing and measuring fish, fishing, canoeing, native herbal teas, nature art, low ropes course, storytelling, nature hike, shock boat, land navigation with compasses, swimming, fishing and so much more. Below is a link to the photos that were taken by staff. Thank you to everyone who helped make this event possible for our students!
https://drive.google.com/drive/folders/1-evQr_z7Y0YcsWyi4RuGb4_ankOW4kGN?usp=sharing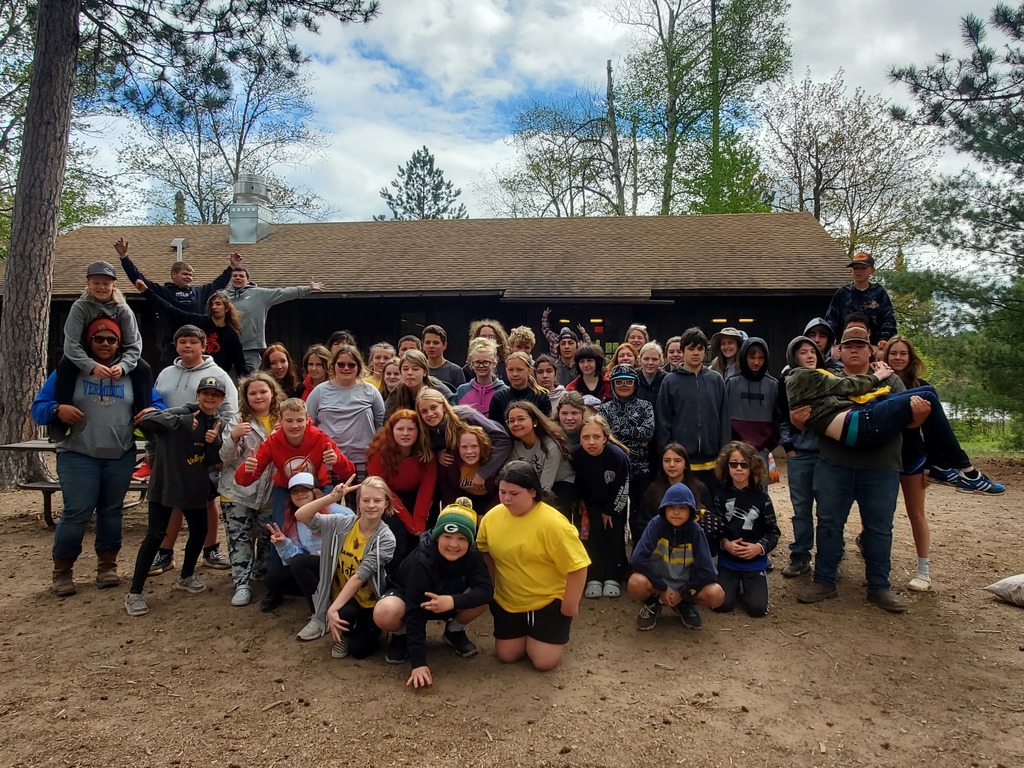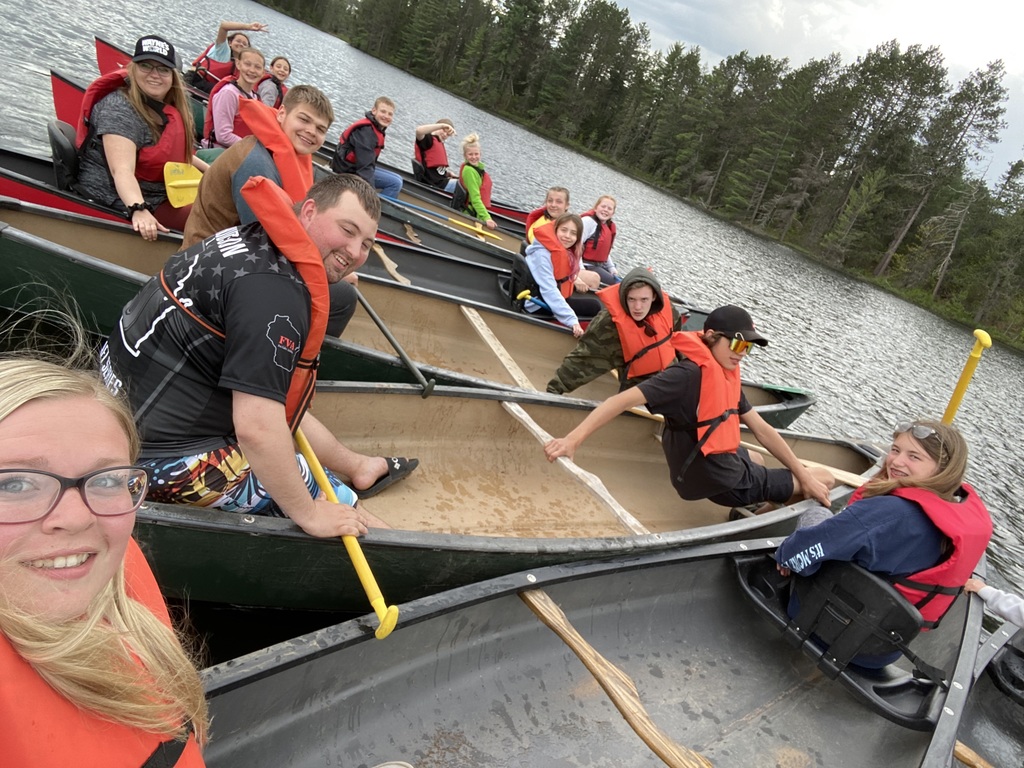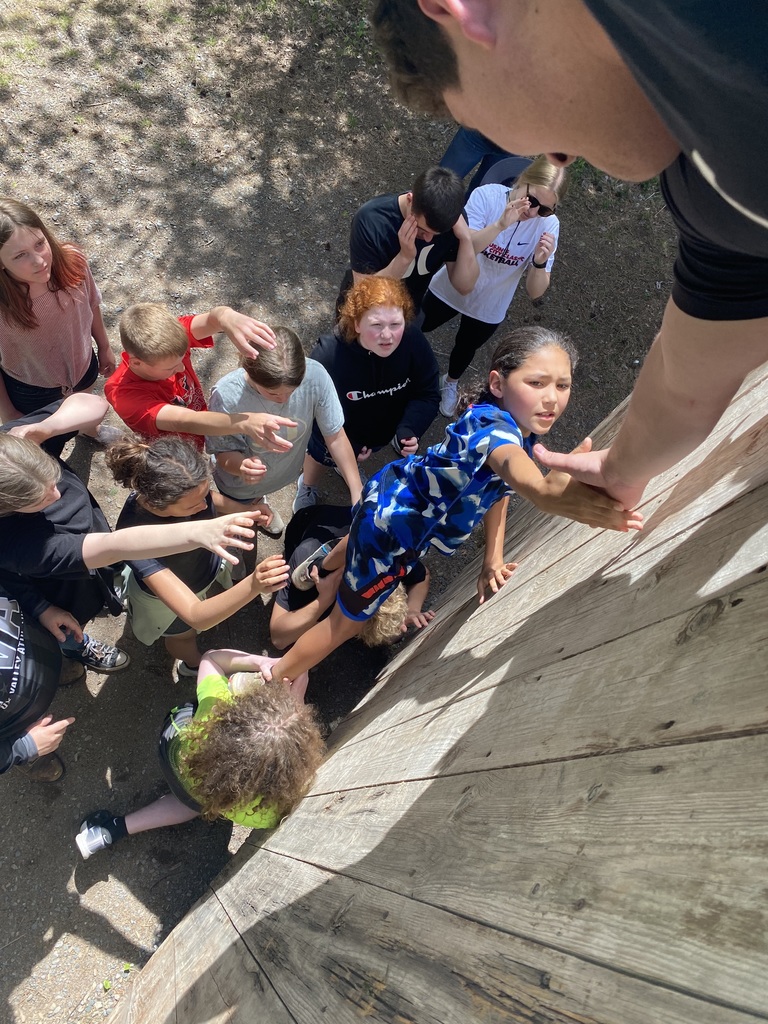 NOTICE OF SPECIAL MEETING BOARD OF EDUCATION BARAGA AREA SCHOOL DISTRICT NOTICE IS HEREBY GIVEN THAT THERE WILL BE A SPECIAL MEETING OF THE BOARD OF EDUCATION OF BARAGA AREA SCHOOL DISTRICT, ON THE 10th DAY OF JUNE AT 4:00 P.M. IN THE BARAGA HIGH SCHOOL LIBRARY. TO CONSIDER: 1. Resignations 2. New Hires for the 2022-2023 school year 3. MASB Workshop-Mary Brayak

PLES track and field day is being postponed to Tuesday, June 7 due to the weather forecast. Thank you!


Celebrating the Class of 2022 on Friday, May 27, 2022! The parade will begin at 6pm, at the school, and end at the Osterman Complex, where the graduation ceremony will begin at 7pm. Please see the attached map for the route of the parade.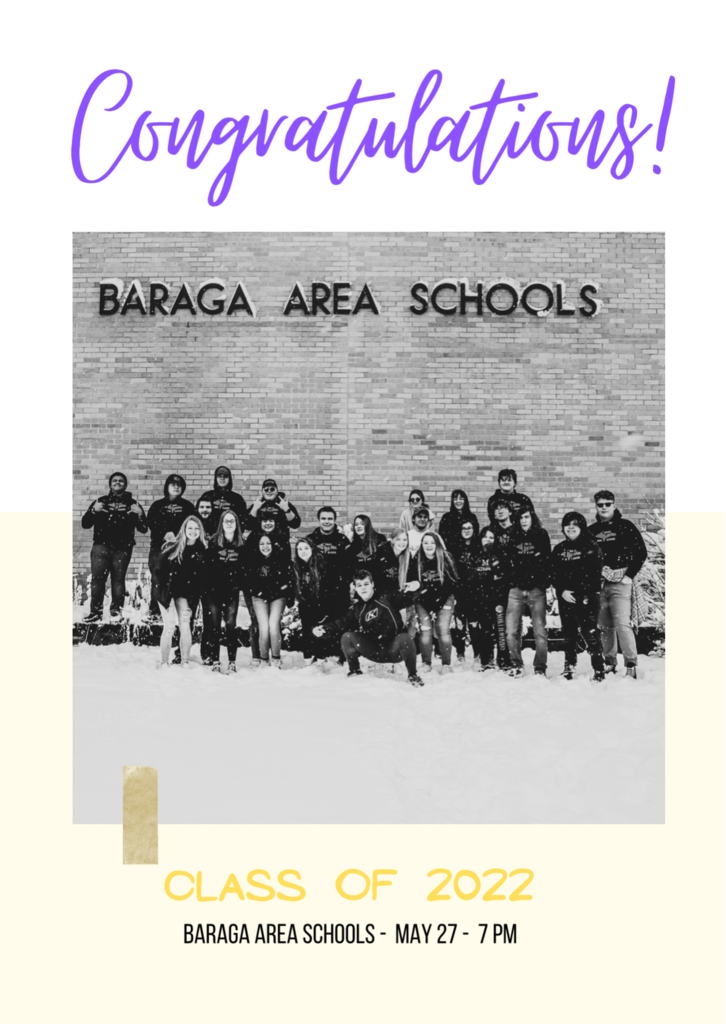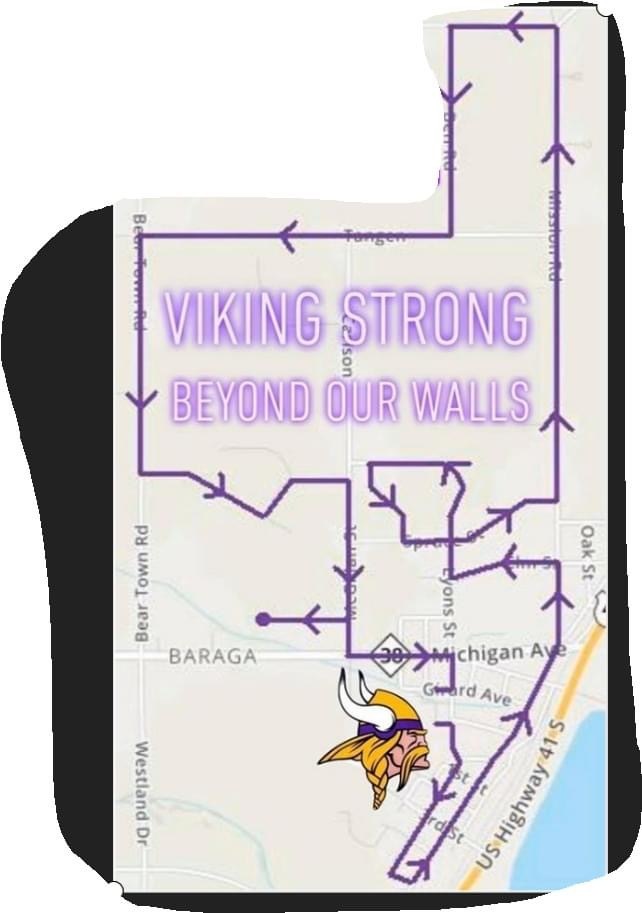 This event is open to the public.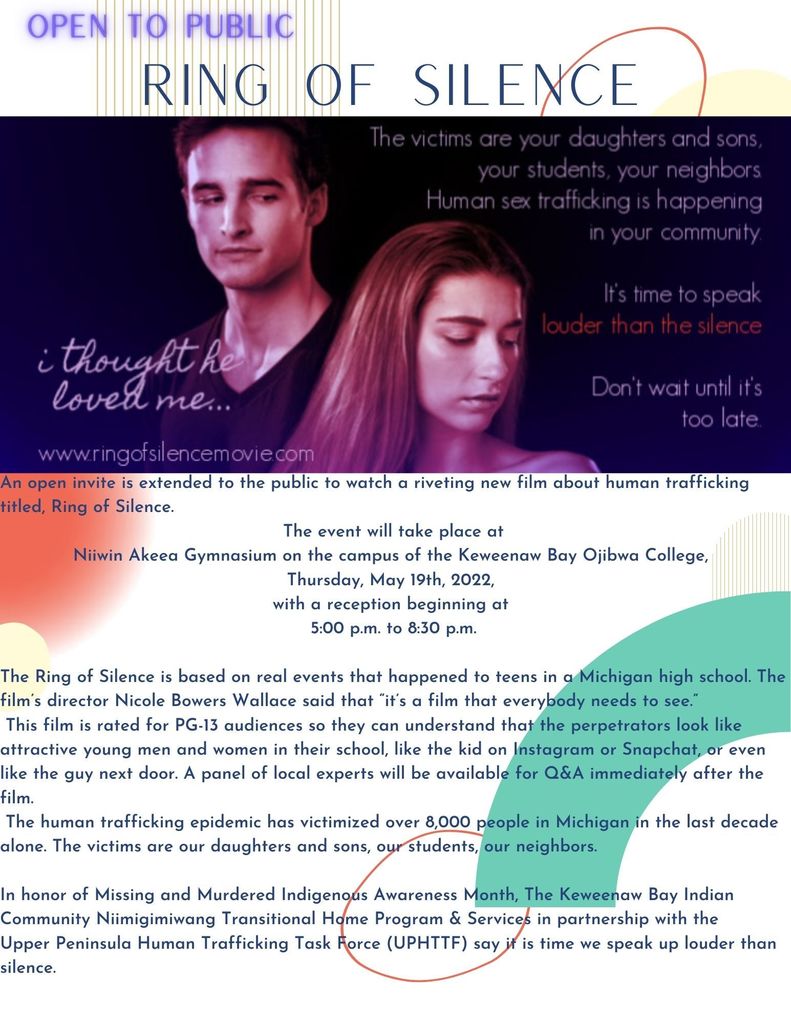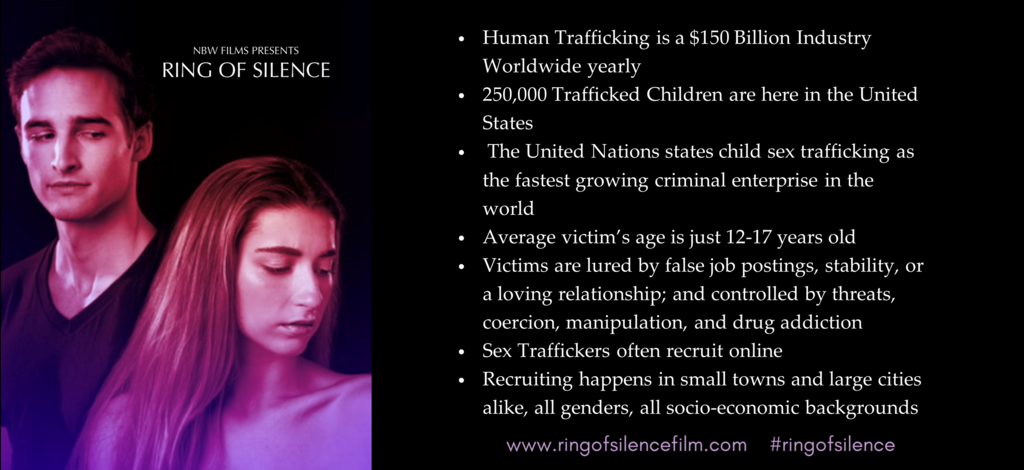 ORDER THE ELEMENTARY (K-5th) & HIGH SCHOOL (6th-12th) YEARBOOK TODAY! Go to treering.com/validate and type in the school code pictured below to get your copy. The elementary yearbook is $15 and the high school is $28 softcover/$34.95 hardcover. Orders are shipped to the school automatically and passed out in the fall. The deadline to order by is June 14th. If you are unable to order online forms are located in the office. If you have any questions or need any help ordering contact Mrs. Klein -
vklein@baragaschools.org
.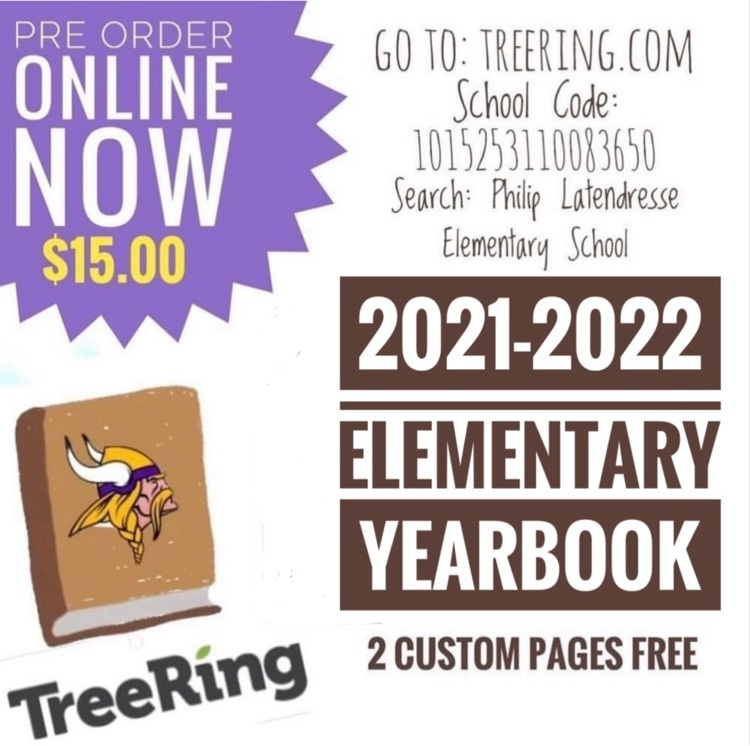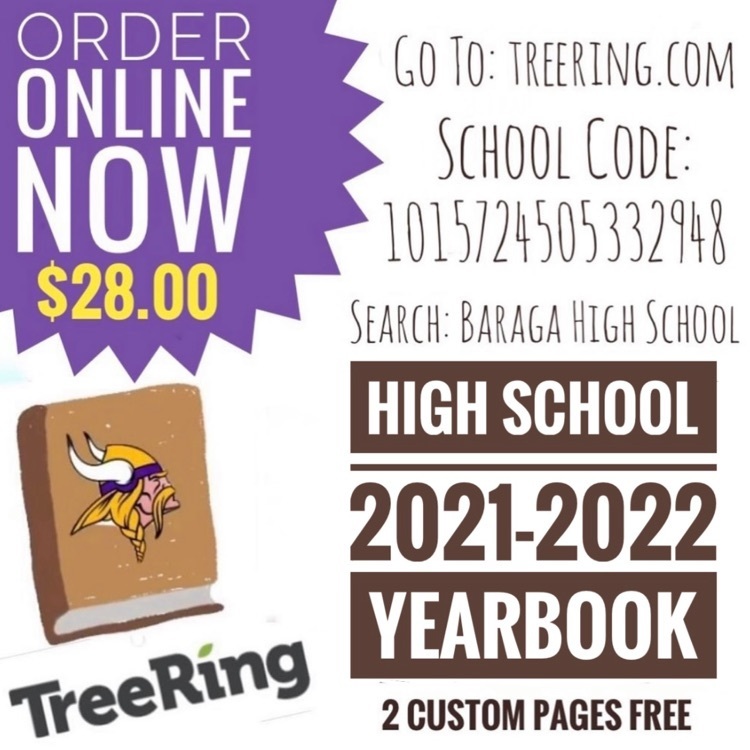 Change to Last Day of School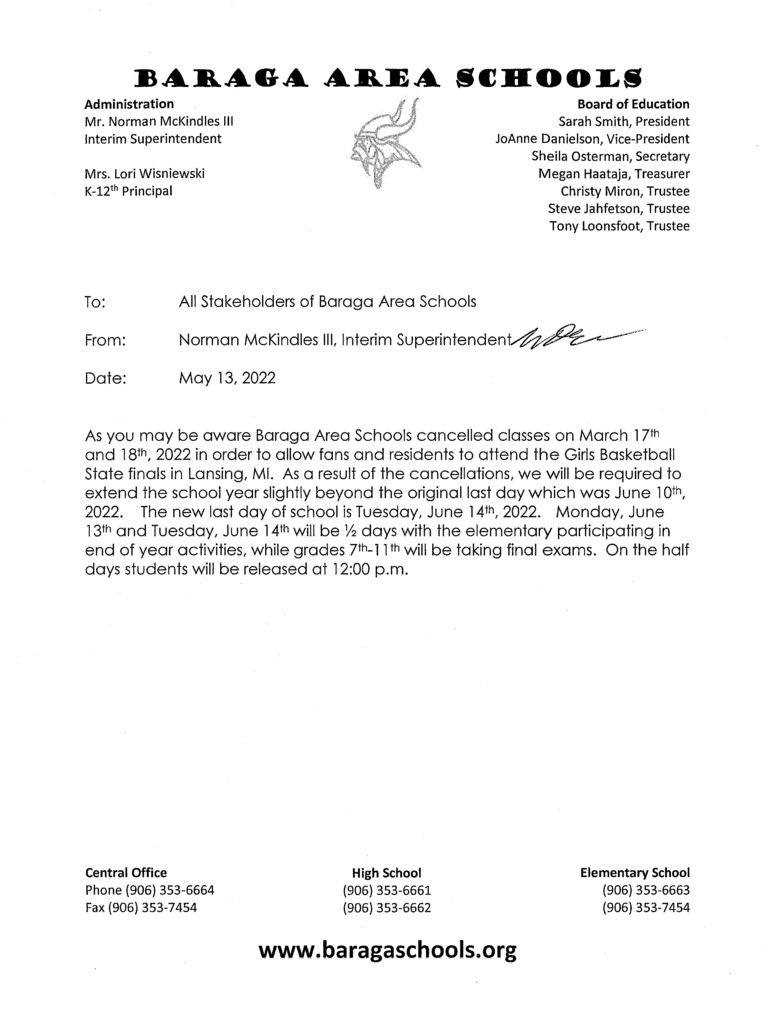 Congratulations to our 2022 scholarship recipients. Viking Strong!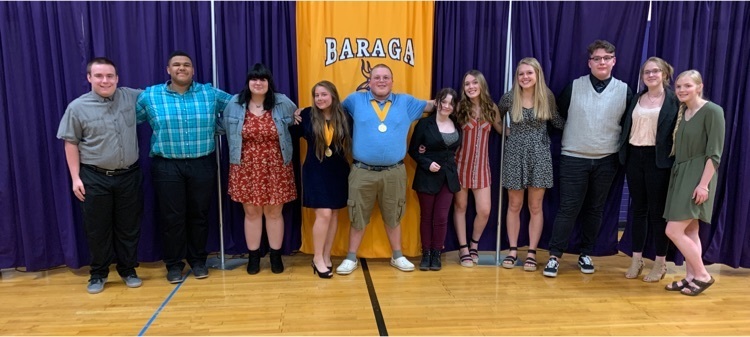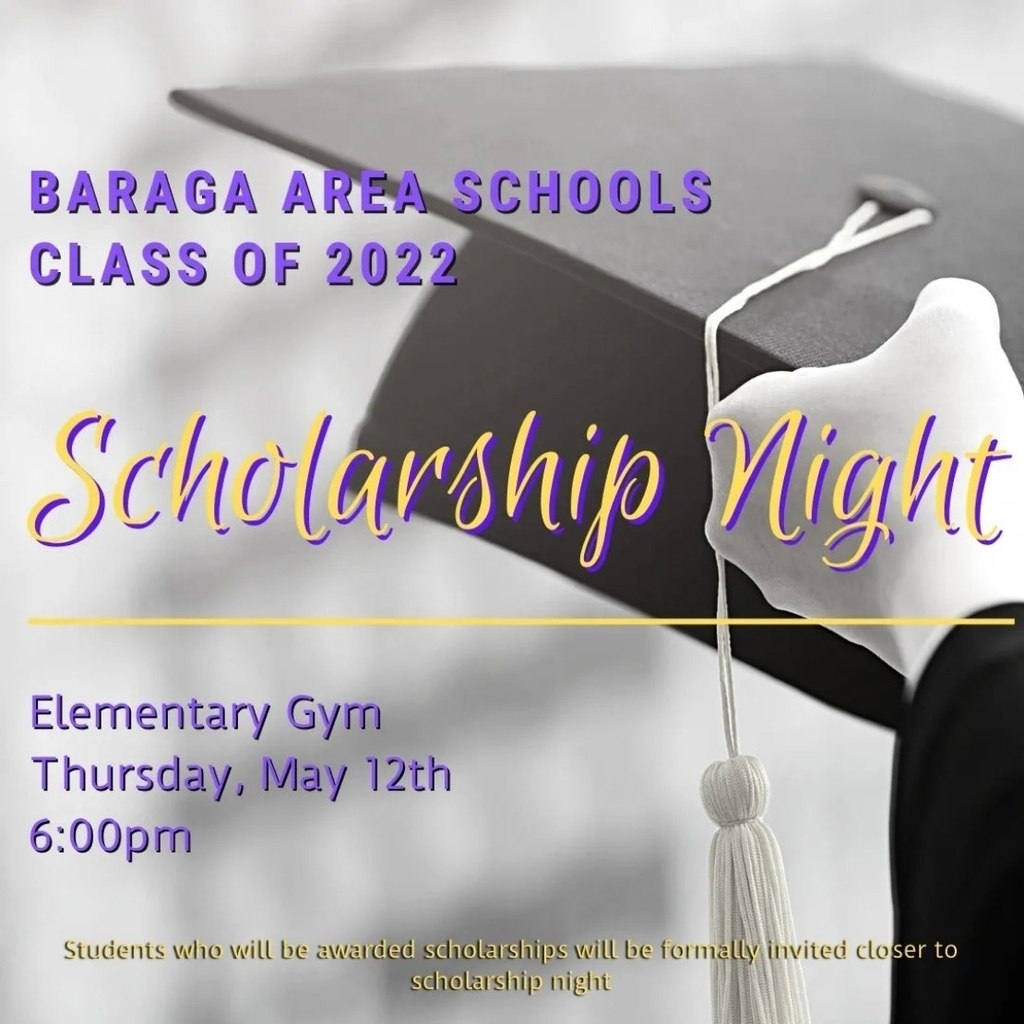 Baraga High School's annual Scholarship Night is tonight! Families are encouraged to attend.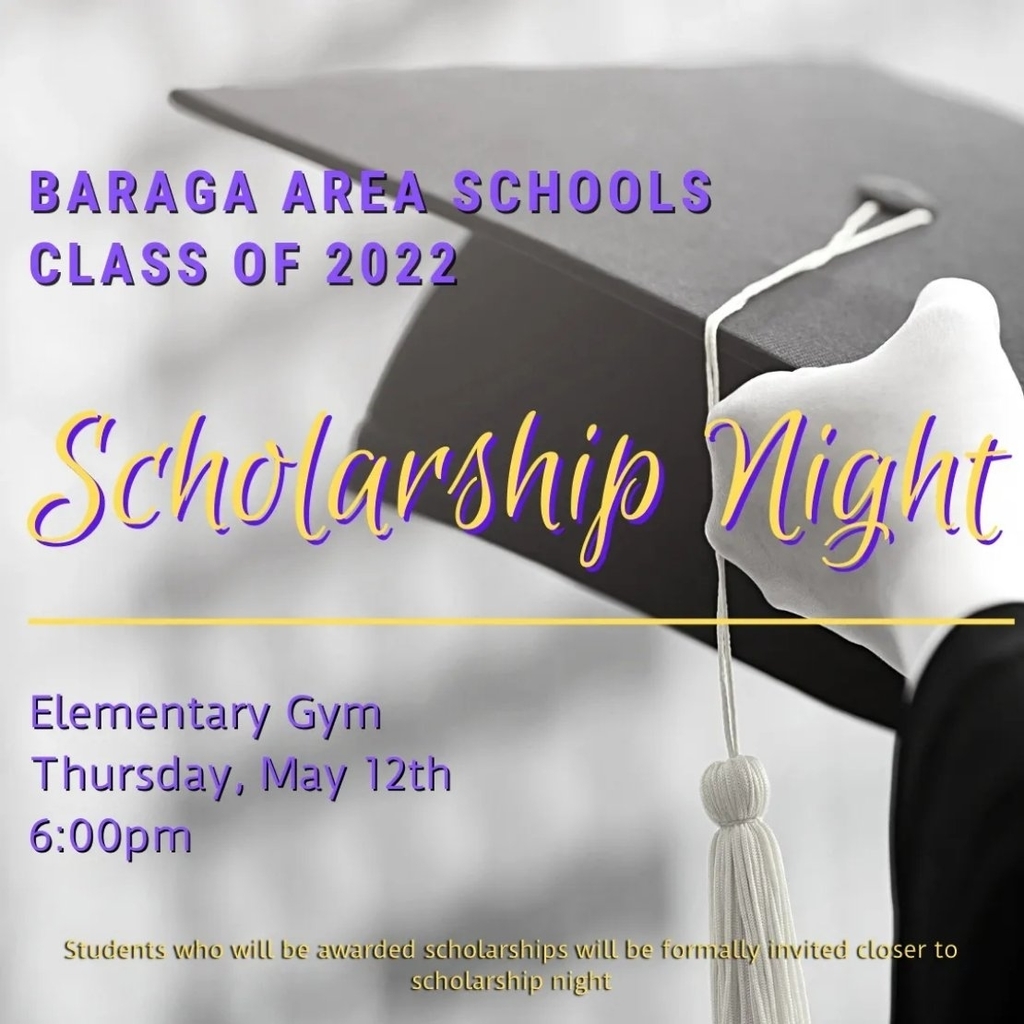 Congratulations to our 2022 Valedictorian, Aidan Holley, and our Salutatorian, Alana Schofield. Thank you for being Viking Strong and making our Viking family proud!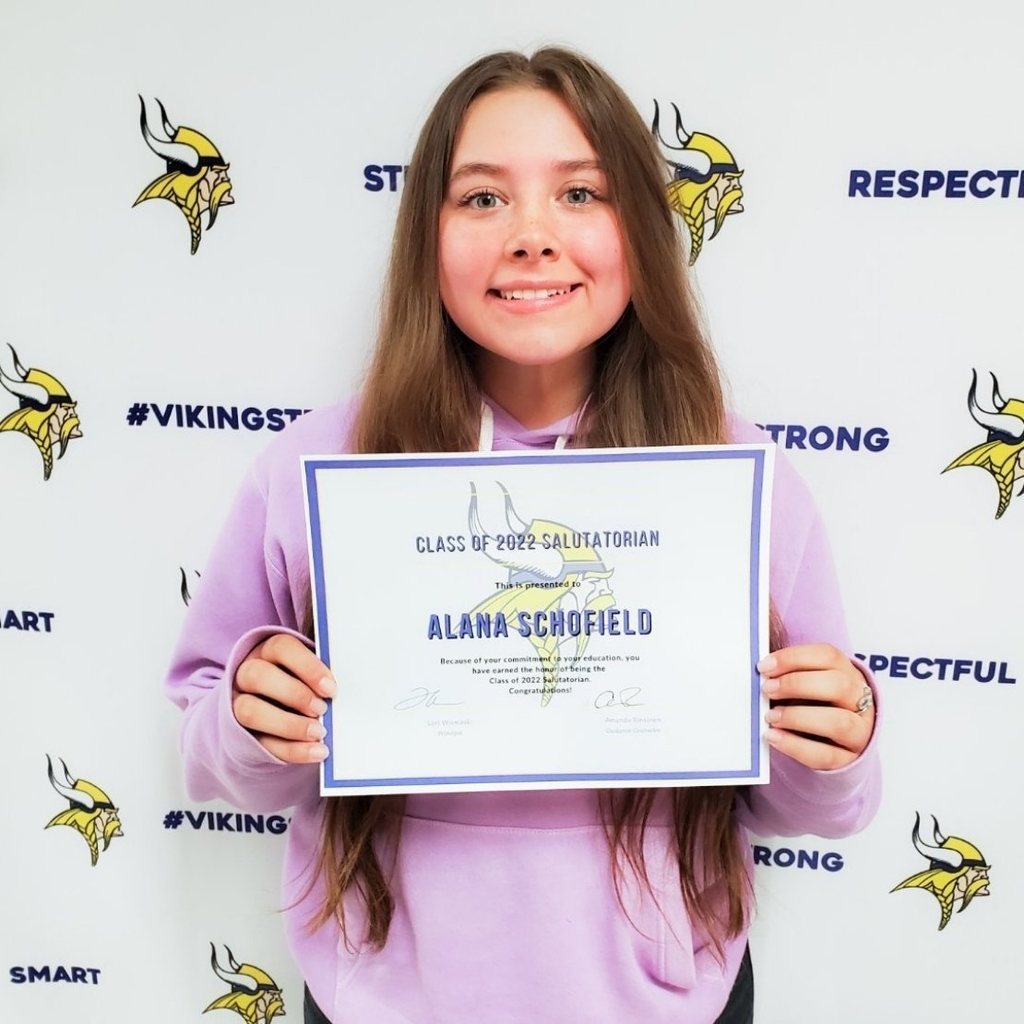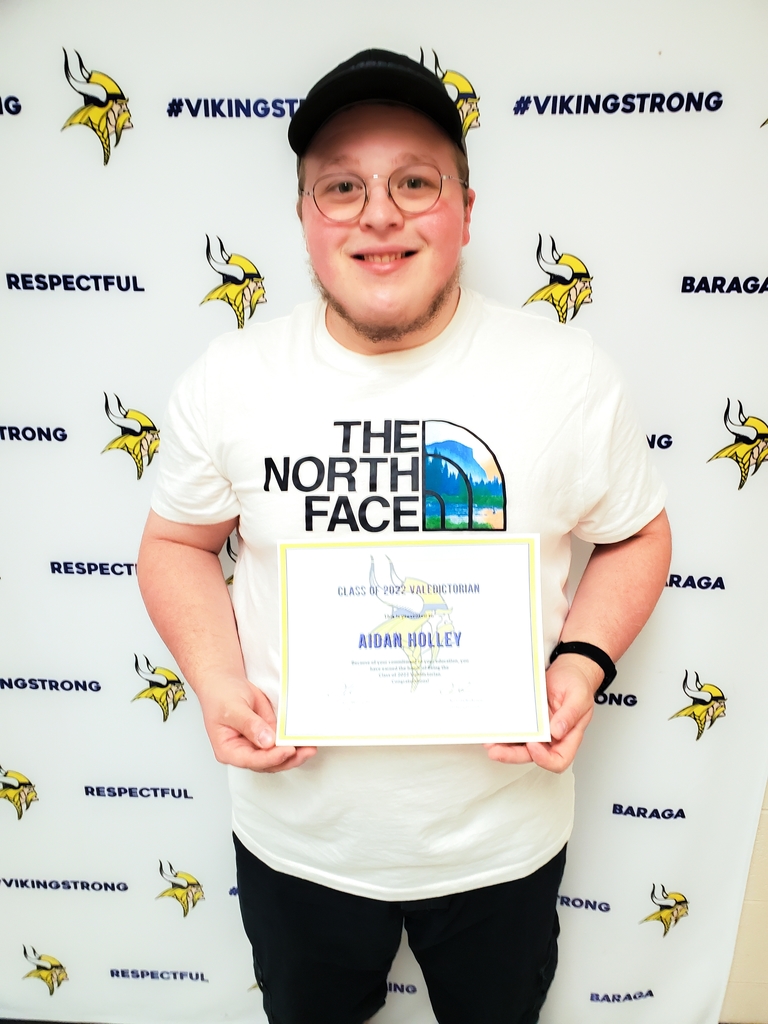 Prom 2022 Information is provided in the flyer.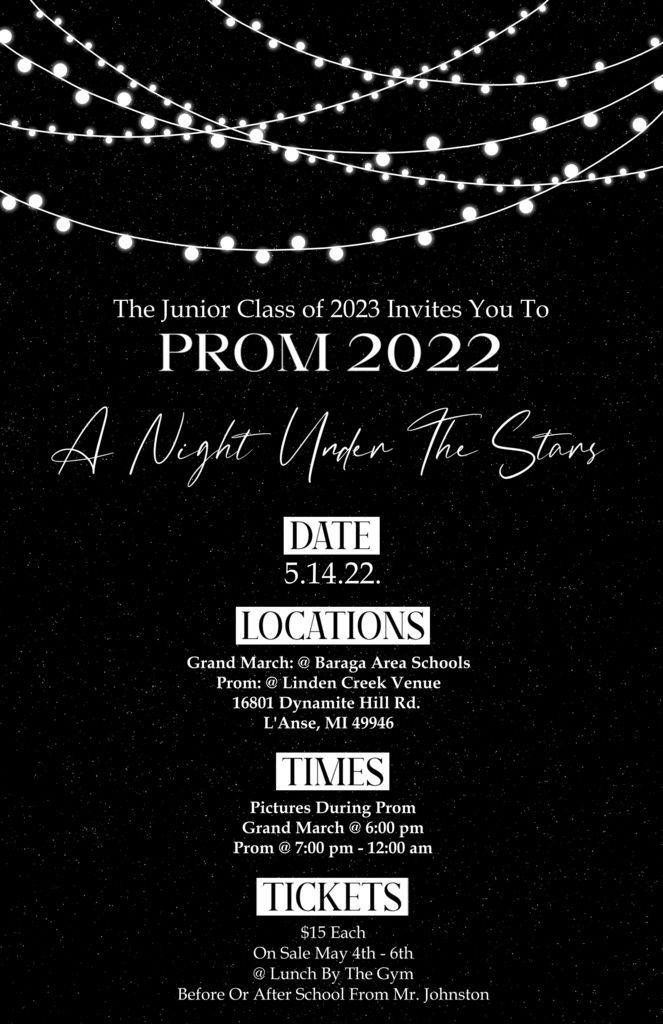 Last night the Copper Country School Board Association gathered to recognize many deserving recipients. Three people from Baraga Schools were recognized for their outstanding commitment to their school and community. Ellie was awarded the Student Leadership Award, Mrs. Retaskie was awarded the Outstanding Education Employee Award, and Mrs. Mayo was awarded the School Service Award. Our local law enforcement agencies were also awarded at this event for their commitment to keeping our schools safe. Congratulations to all and thank you for all you do for our school.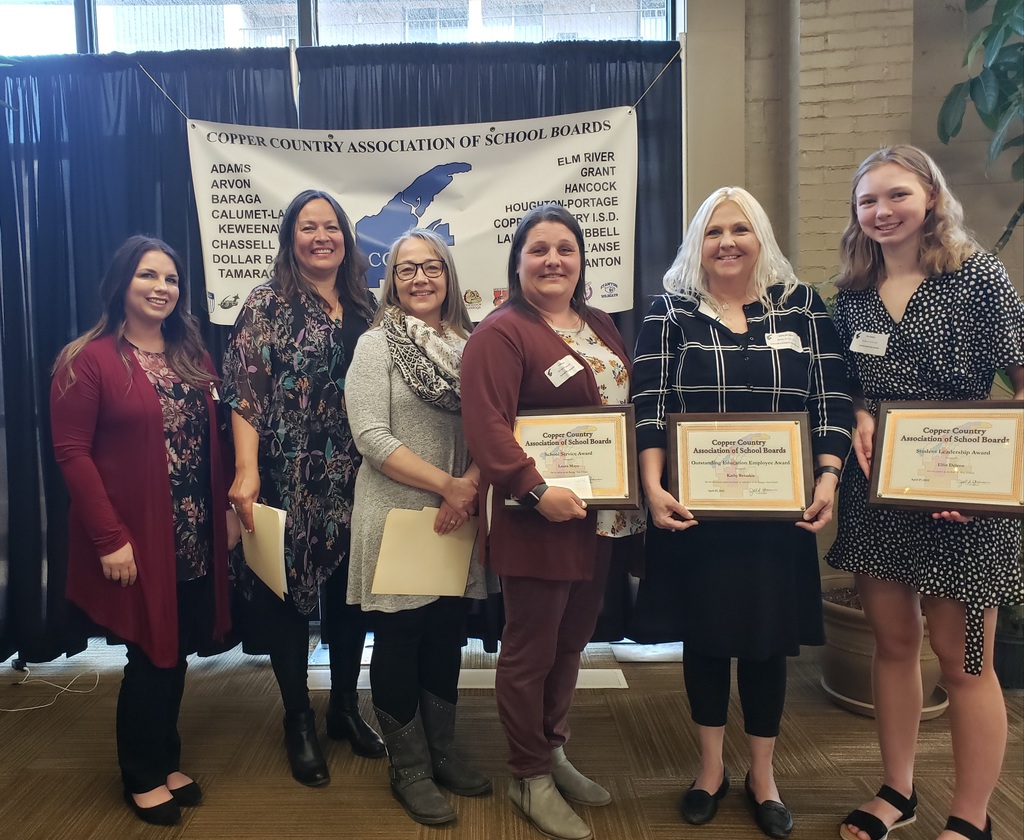 Thank you to Jake Ostermeyer from Edward Jones for coming in to talk to our seniors about making smart financial decisions!