The yearbook team is AGAIN searching for photos. This time we need JV VOLLEYBALL photos. If you have any please email them to
vklein@baragaschools.org
THANK YOU!

Baraga County Memorial Hospital has contacted us in regards to providing vaccinations to any student ages 16-18. We will be contacting students to gauge interest, but if you would like your student to receive the vaccine or like more information, please contact the office at 353-6661.

Junior/Senior High guardians who have students in music classes, please check your email for important concert information. Thank you!

REMINDER: CELEBRATIONS WILL BE AT LAKESIDE TODAY FROM 3-6 FOR TUX RENTALS FOR OUR PARENT RUN PROM.

Baraga Area Schools will host their K-12 Art Show/Display that will run during the Spring Concerts on May 20th and 25th from 1:45 to 3:30 each day. It will have one piece from each student that was in Art Class this year and the students will select their best work that they want to display.

We have started a page for Student of the Week and Student of the Month celebrations. We will update this as the time goes on. PLES information will also be added soon. Check out all the Viking Strong photos below.
https://www.baragaschools.org/page/viking-strong

The yearbook class is in search of girls junior high basketball photos from the 2020-2021 school year. If you have any photos of our girls in action please send them to
vklein@baragaschools.org
. With covid restrictions at games earlier this year we missed these games. We would really appreciate it.

We are so excited that we can hold scholarship night face to face! Students who earned scholarships will be personally invited to this event once we have heard back from all of the organizations that sponsor our scholarships.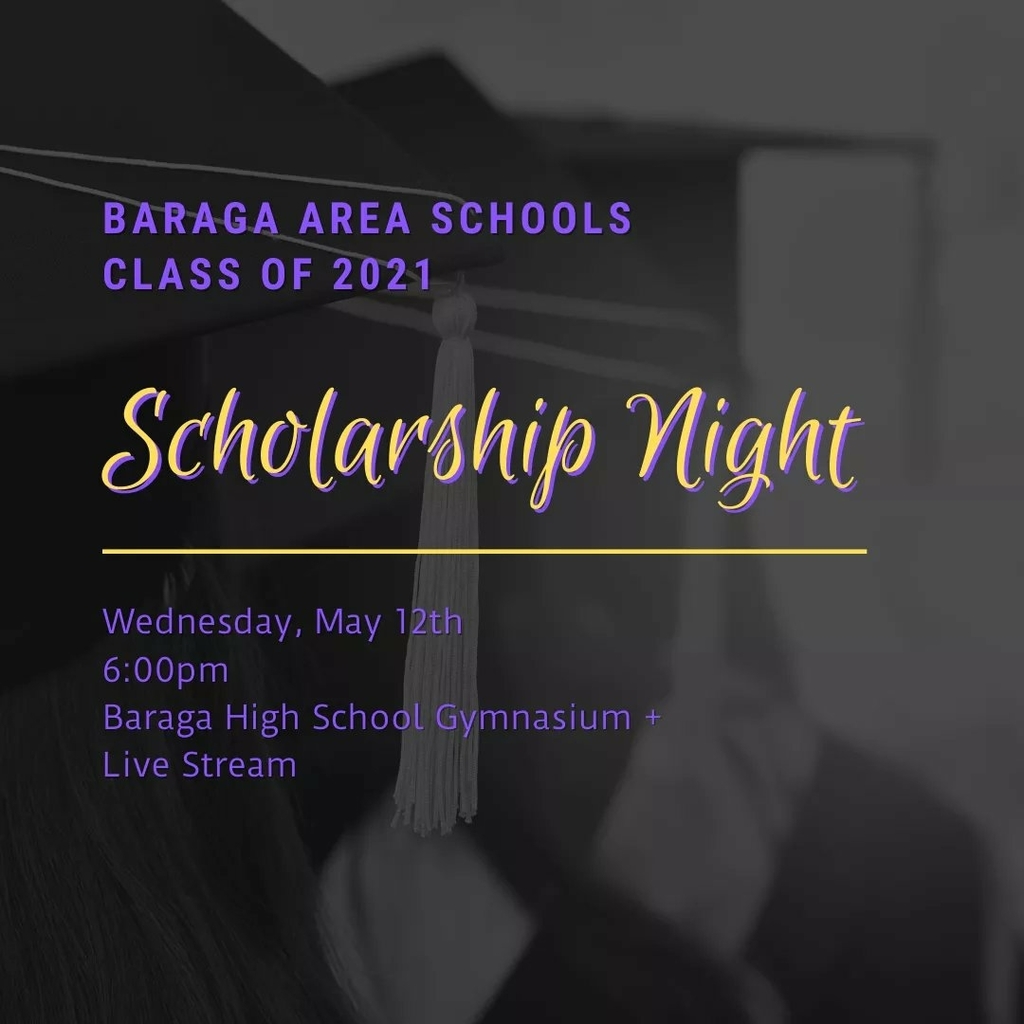 Music is the medicine of the mind and music is exactly what we need to get us through these stressful times. That being said, Baraga Area Schools will be having their Spring Concerts. The 6-12 concert will be on Thursday, May 20th at 1:45 PM. The K-5 concert will be on Tuesday, May 25th at 1:45 PM. In accordance with CD guidelines, each student can have two adults at the concert, where mask wearing will be required. We will also live stream it, with details on that to soon follow. If you have any questions, please contact Mr. Scott at 353-6661

Remember: MSTEPs begin next week! Our students are SO much more than a test score, but these tests are mandated by the state, so encourage your child to do their best.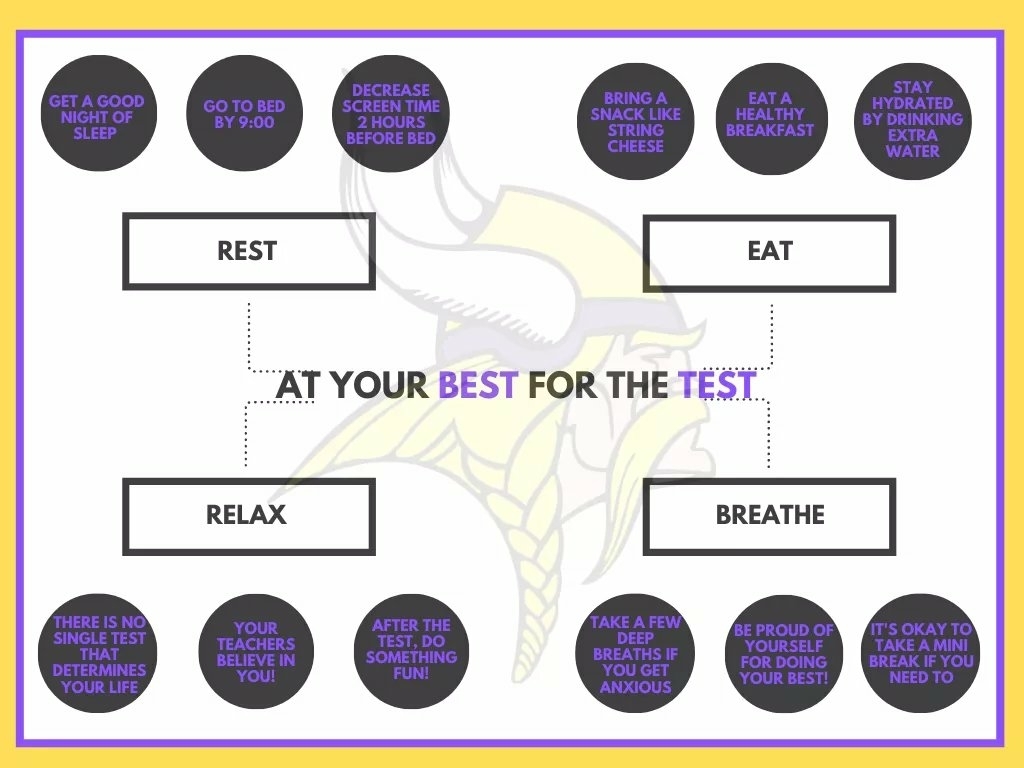 Getting ready for kindergarten signing day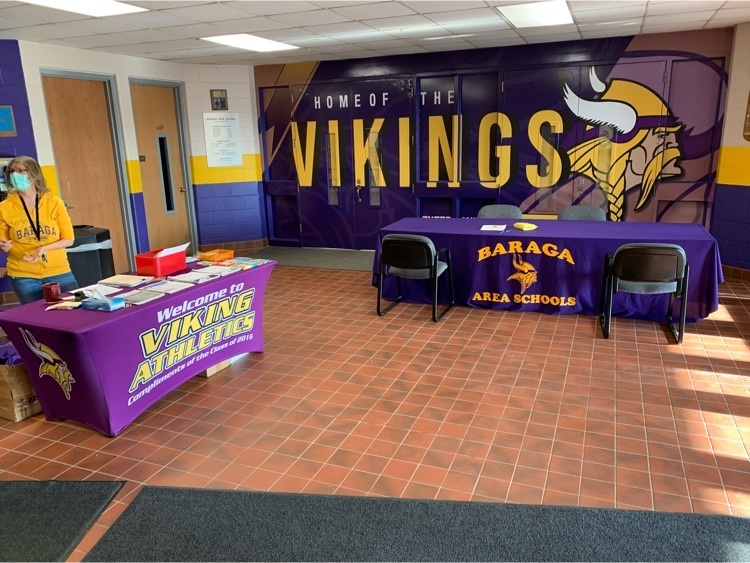 A huge thank you to KBIC Health Center helping us out to test our athletes. Tyler Hoskins and Breanna Owens were a huge help to us in getting all of our athletes tested.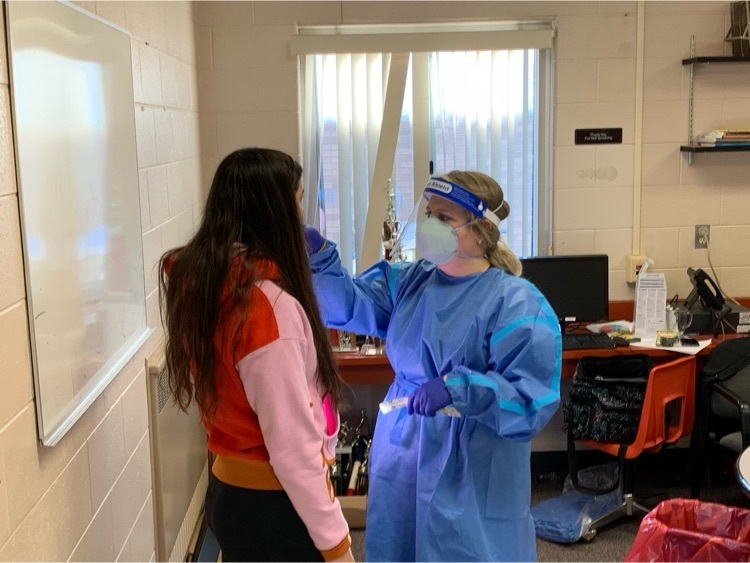 MSTEP testing begins next week! Middle school is testing during the week of April 26-30 with make up tests from May 3-7. Elementary (grades 3-5 only) tests will be May 3-7, with make ups from May 10-14. All virtual students are invited to come test at the school. Unfortunately, no student is allowed to test from home. Teachers will be sending grade-level tests schedules soon. Contact Mrs. Rinkinen with any questions (
arinkinen@baragaschools.org
).

The Little Vikes are doing their annual egg hatching with Mrs. Warner

Camp New Day is currently accepting summer camp applications for youth ages 9-14 whose lives have been affected by the incarceration of a parent or guardian. This camp is free! For more information and application details, see their website at
www.campnewdayup.com

Baraga BASH Senior Lock-in Fundraiser, Friday, 4/16 @ Baraga American Legion Post 444 from noon until gone. We are having a Frybread Taco fundraiser (7$ donation) which will include a dessert and bottle of water. Take out and delivery will be available. There will also be a basket raffle. We are taking preorders for the tacos and the baskets are posted below. Tickets will be available for purchase for 1$ a piece on Wednesday & Thursday from noon until 6 pm, and Friday morning until after the Indian taco sale at the Baraga American Legion Post 444, when the basket winners will be drawn and contacted.

Attention: The school board meeting originally scheduled for Monday, April 12th has been postponed until April 19, 2021 at 5pm. It will be held in the Baraga High School gym. 

PROM UPDATE. As of today, April 8, Baraga Area School's plans for prom are paused. This does not mean cancelled, but paused. With the raise in new positive cases throughout the state, we are waiting on more guidance from the CDC on how to safely put prom on, if we can. So, nothing is officially cancelled, but officially paused as we wait to get more guidance. Thank you for your patience.

Baraga Area Schools will be having their Kindergarten Registration on Friday, April 23rd. This will be an all day affair, so the Little Vikes and the Kindergarten classes will not meet this day. The teachers will be letting the parents know more about this. Please read the attached flyer and if you have any questions please give us a call.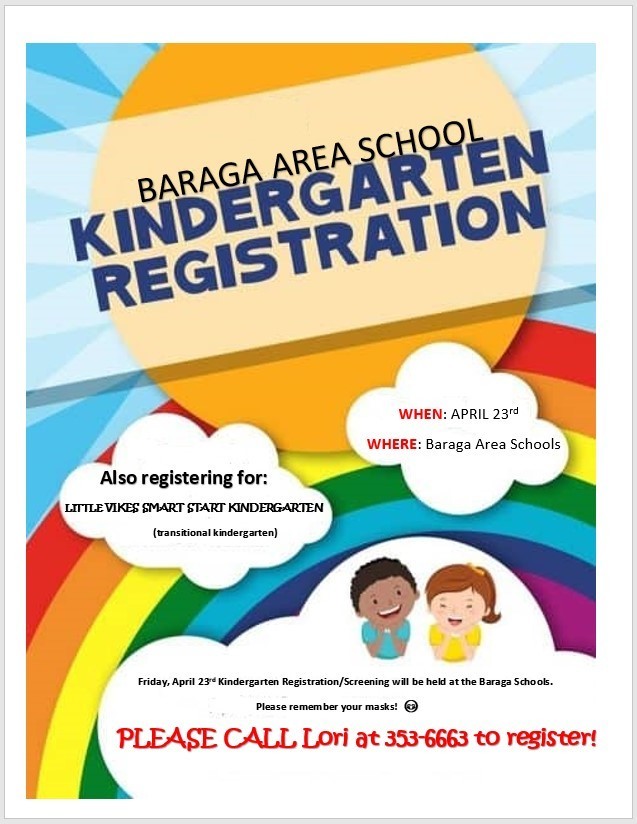 2021 Summer Youth Soccer registration is now open. Many of the life skills that players learn through soccer are beneficial in later life, how to form and build relationships, developing a sense of co-operation, and how to handle adversity are all key qualities that will benefit the players in adult life. Please visit HoughtonFC.com to register today for players 3 to 19 years old." Gratefully, Jen Bach Communications Director, Houghton FC