Pre order the 2020-2021 6th-12th grade yearbook now for $28.00! Head to treering.com/validate and enter our school code: 1015724505332948. You also have the option to customize 2 pages for free with your personal pictures from this year. Yearbooks will come in during the summer and will be passed out in the fall. You can choose to have it shipped to your house but you will have to pay for shipping. If you have any questions (or can't order online) please contact Mrs. Klein -
vklein@baragaschools.org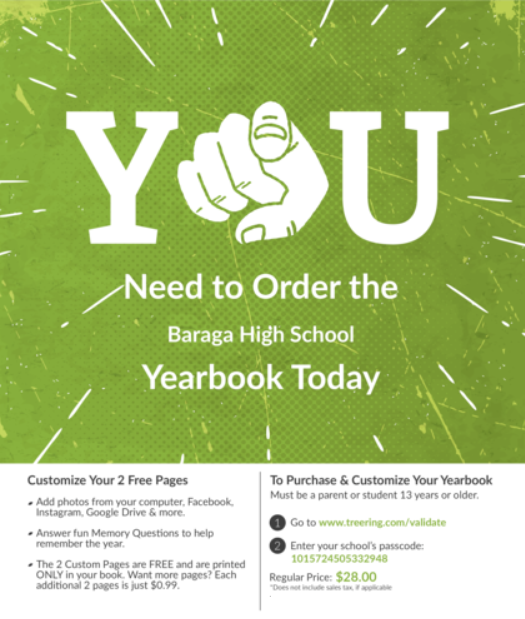 Celebration of Excellence Awards 2021 Each year the Copper Country Education Association recognizes a teacher and a staff/community member for each school district in the area. This year's recipients were Lisa Collins for the Local Union Member and Karla Holm for the Community Member. Lisa does lots of work behind the scenes. She has been influential in helping the staff with the online curriculum and changes this year, she monitors work-based learning students, and is willing to help out where she sees necessary. She volunteers extra time to our students and school and this is a perfect way to recognize her for all she does. Karla works with at risk students, does lunch and recess duty, or whatever is necessary to meet the needs of students. She is respected by all and everyone appreciates her and her caring and genuine approach. She will be retiring in June and has truly earned this award. Our BEA President, both recipients, and a guest were invited to a Celebration of Excellence ceremony on Thursday, May 13, 2021.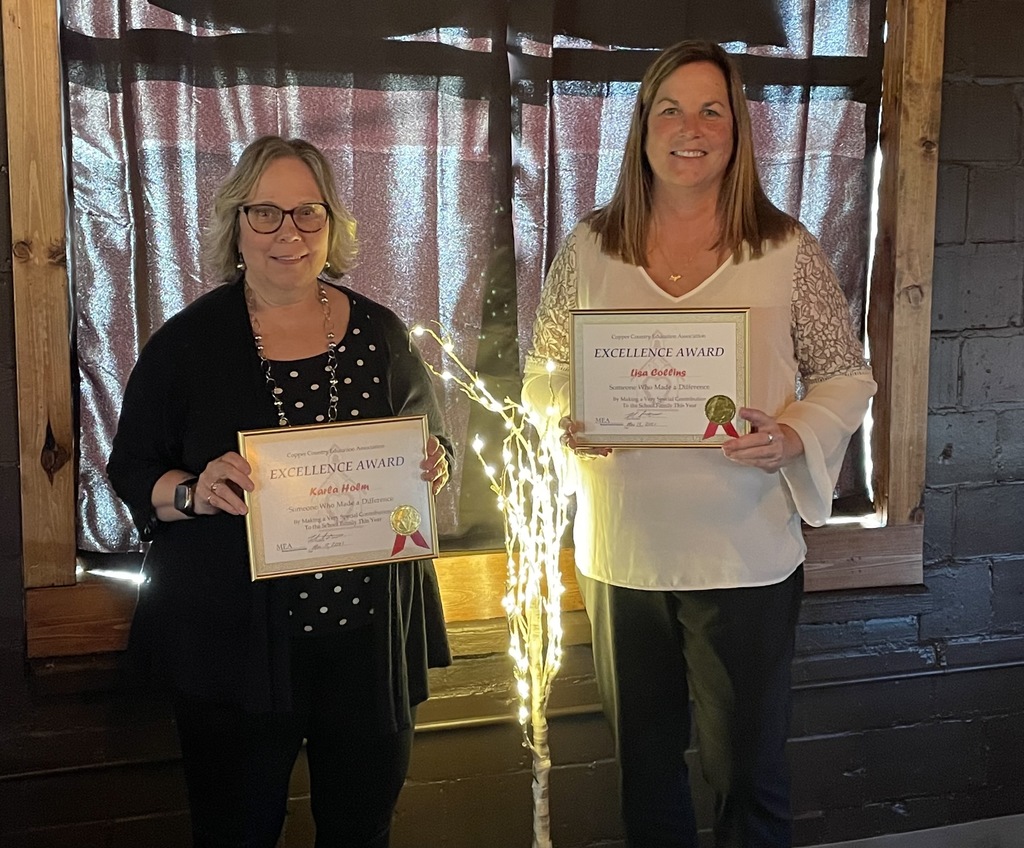 Just a reminder that Baraga Area Schools will have a district wide two hour late start on Friday, May 28th, so that we may honor our graduating Seniors with a Senior Breakfast.

After much thought and consultation with Ms. Nevala, Baraga Area Schools, in order to put out the best product and ensure that all students are able to participate, will record their Spring concerts and broadcast them at in the upcoming weeks. That being said the concerts, which were supposed to be performed on May 20th and May 25th respectively, may not be recorded by then. Thank you for your patience in this matter as we want to do everything we can in order to let the students perform and perform at the highest level possible. Stay tuned for more information on when the concerts will be put out to view.

Due to the uptick in positive covid tests in the area, our having to quarantine a classroom, and confusion about the current mask mandates, the JH/HS concert scheduled for Thursday, May 20 will now be a virtual event. Please check back here for the link on how to view the concert.

2021 Baraga High School Graduation - Friday, May 28, 2021 Plan A - Weather permitting Senior Parade - 6pm - Same route as last year. Starting at the High school and ending on the track. Only seniors will be in the parade. Graduation Ceremony - 7pm - Osterman Sports Complex (field). Guest Vouchers - 10 per senior. Plan B - Inclement Weather Senior Parade - The parade will be cancelled. Graduation Ceremony - 7pm - Baraga High School Gymnasium. Guest Vouchers - 10 per senior.
Dear Baraga Area School Families, In the continuous effort to update the community with the latest from the Governor's office things are a bit confusing. Things are not clear and we are wading through the muddy waters of the latest orders announced by Governor Whitmer on Friday. Here is what we do know. The State of Michigan's newest health orders do not address rules for workplaces—those are the responsibility of the Michigan Occupational Safety and Health Administration (MIOSHA). MIOSHA has indicated that they are still deciding if they will lift their face covering mandate for employees. Until changes from MIOSHA are announced, Baraga Schools is required to follow the current MIOSHA rules. The CDC and our local Health department have just recommended that schools should continue with their local plans and maintain the status quo until the end of the school year. As for now Baraga Schools will continue to follow our Return-To-Learn plan until further rules and guidance are released. We again would like to thank everyone for their support and patience especially as we wade through some of these muddy waters. Sincerely, Richard Sarau Superintendent

Both Baraga Music Concerts will be in person. 6th Grade, choir and guitar will perform on May 20th and the K-5th grades will perform on May 25th. Both concerts are at 1:45 pm in the big gym. The 7th-12th Baraga Band will perform virtually at a later date. Details were recently emailed to parents. Two adults are welcome to attend per student. Details on vouchers for guests will come soon. Performances will be livestreamed for those not able to attend. Please reach out to Ms. Nevela (
cnevala@baragaschools.org
) with any questions or ideas. Masks and social distancing are required at this event. The K-12th grade art show will be on display during the concerts. Pictures of the show will be posted to the Baraga Area Schools Art Facebook page for those who cannot attend in person.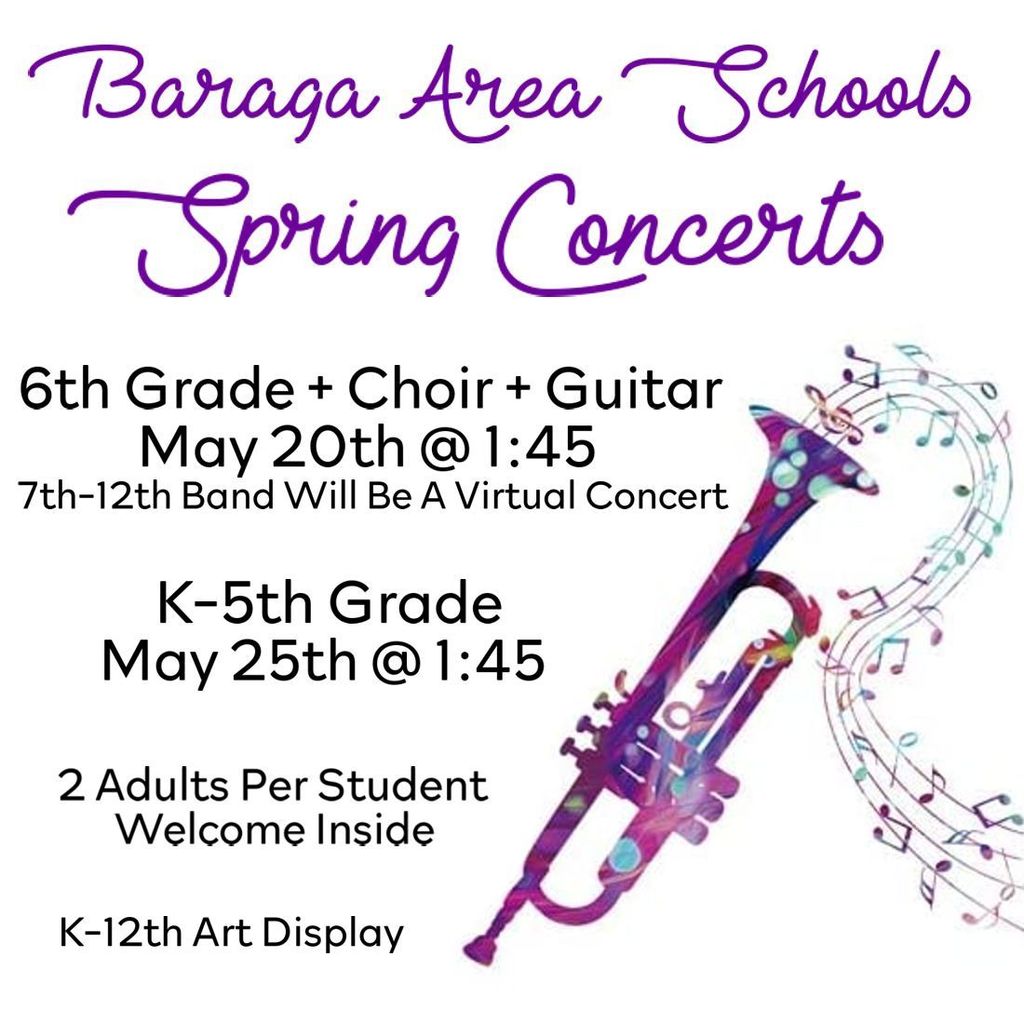 With her teammates in attendance Baraga's Allison Durant signs on the dotted line to play basketball at Gogebic Community College next year

Below is the link to view our virtual scholarship presentation tomorroweveningat 6:00. To join, you will need a Google Account. Please contact Amanda Rinkinen with any questions.
https://meet.google.com/gbg-iiig-nbz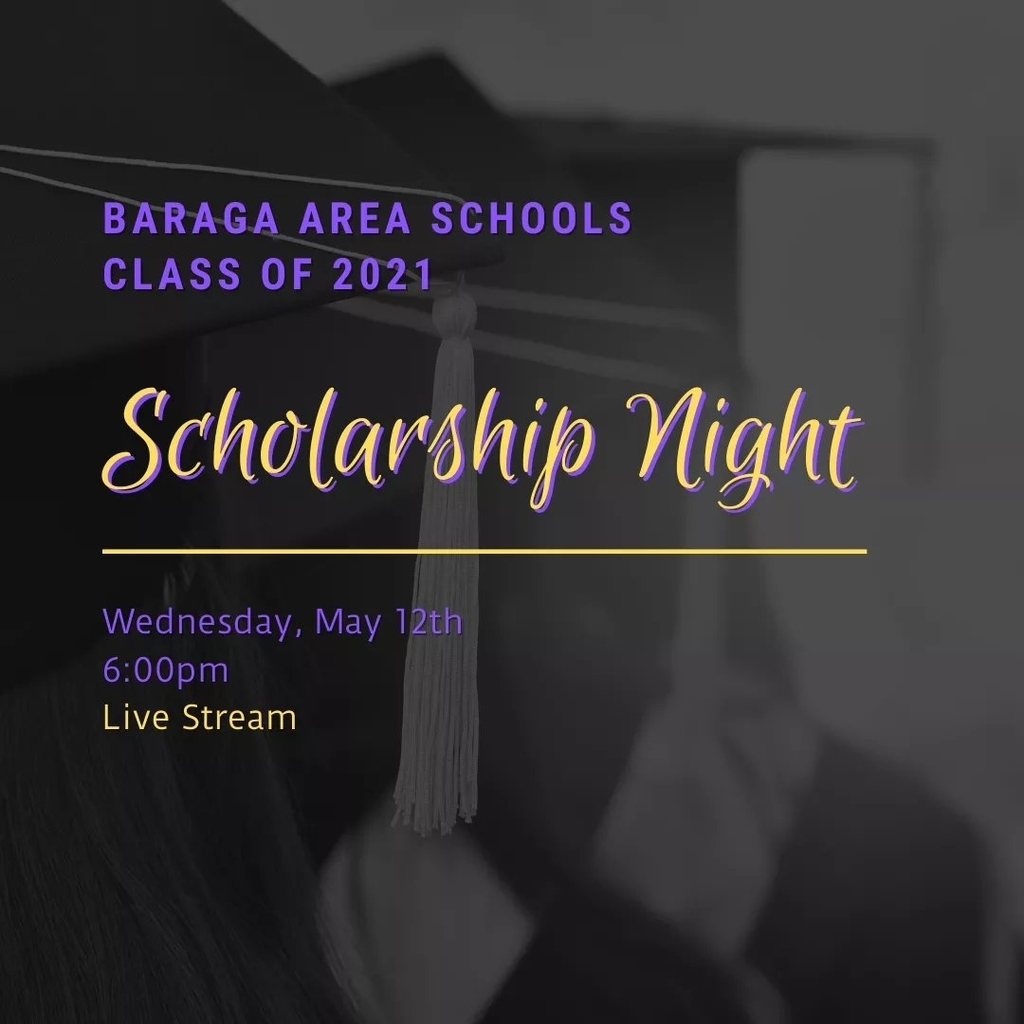 The chicks have started to hatch in Mrs. Warner's Little Vikes room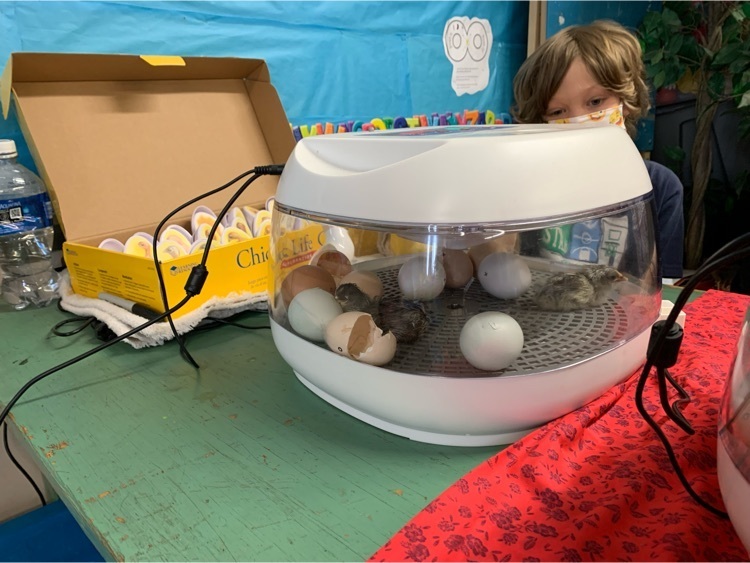 Baraga Families, Please see below for an important message from Superintendent Richard Sarau regarding in-person learning and the recent uptick in quarantines at the school.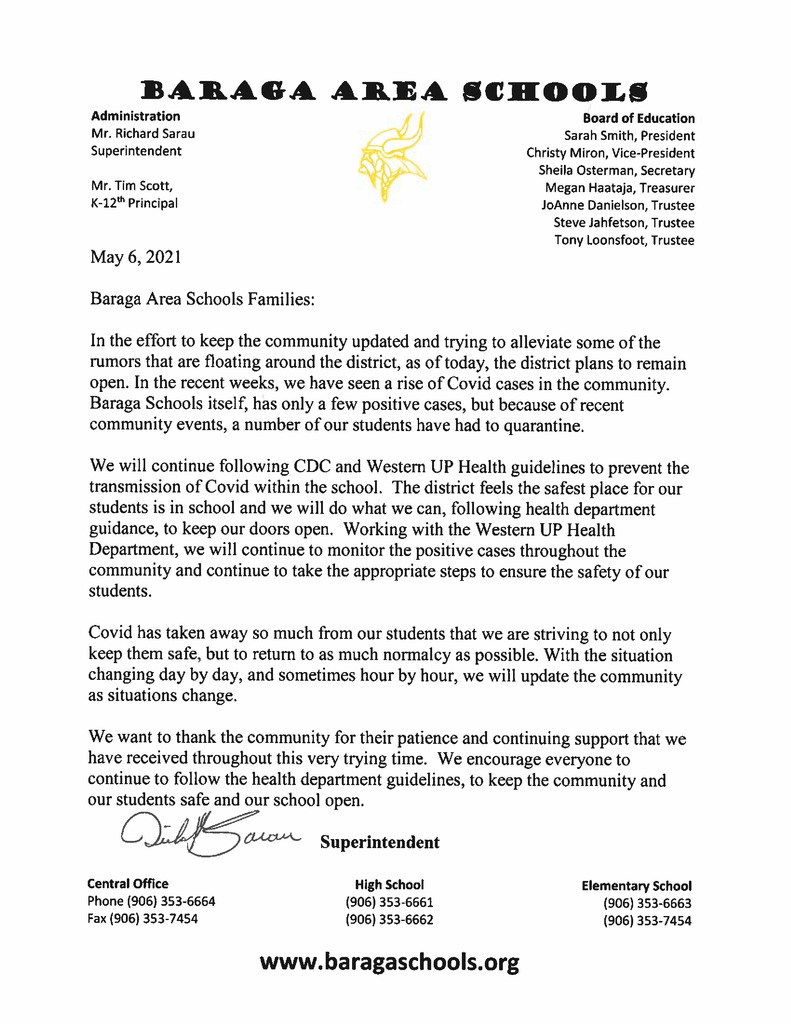 ATTENTION: We are VERY disappointed and saddened to have to send this announcement to the community. Due to recent events, quarantines, positive COVID cases, and due to the current increase in positive cases in the community, the Class of 2022, in consultation with the Western UP Health Department, and the adults who have been so diligently hard working to put this on, have had to make the tough decision to cancel prom. We have put a lot of time, energy, money (all prom ticket money will be refunded) and heart into this prom and this was not an easy decision. We know that many people are out a lot of money due to tuxes and dresses (so are we sadly), and we are very sorry for this. We did always know that prom being cancelled was a possibility. We just hoped it would be able to happen. With prom being so close to the Baraga School Graduation - repercussions from our prom could greatly affect graduation, BASH, breakfast and graduation parties. We do not want the loss of these events to be placed on our classes shoulder or for our seniors to miss out on these huge life events. Again, we are very sorry for this announcement. Sincerely, Desiree Lauritsen Stefanie Holley Class of 2022

Unfortunately, due to the number of students who will still be quarantined next week, our Scholarship Night will be held virtually. More info will be given to students once plans are finalized. Thank you for understanding.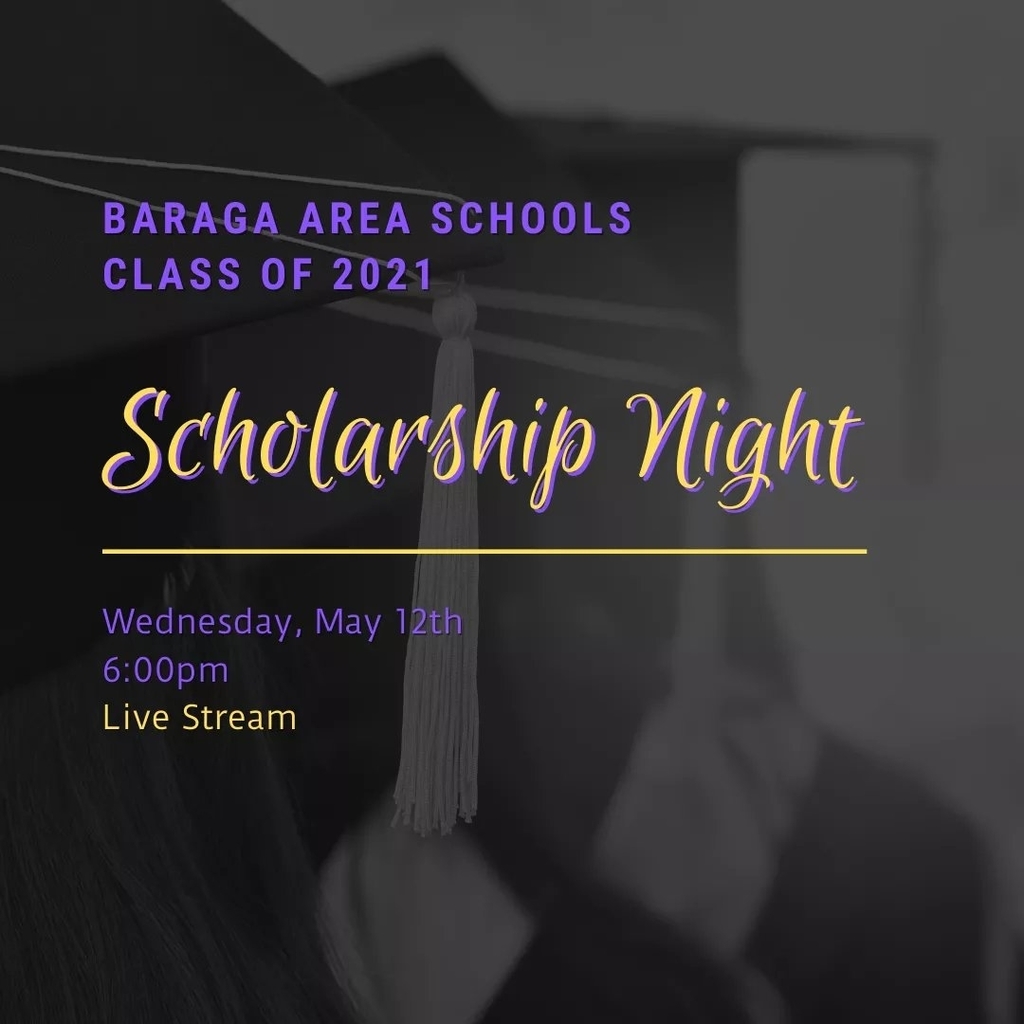 Welding and Manufacturing plus Graphic Design and Marketing both have awesome facilities! Our students are lucky to have these great opportunities for free job training and skill building.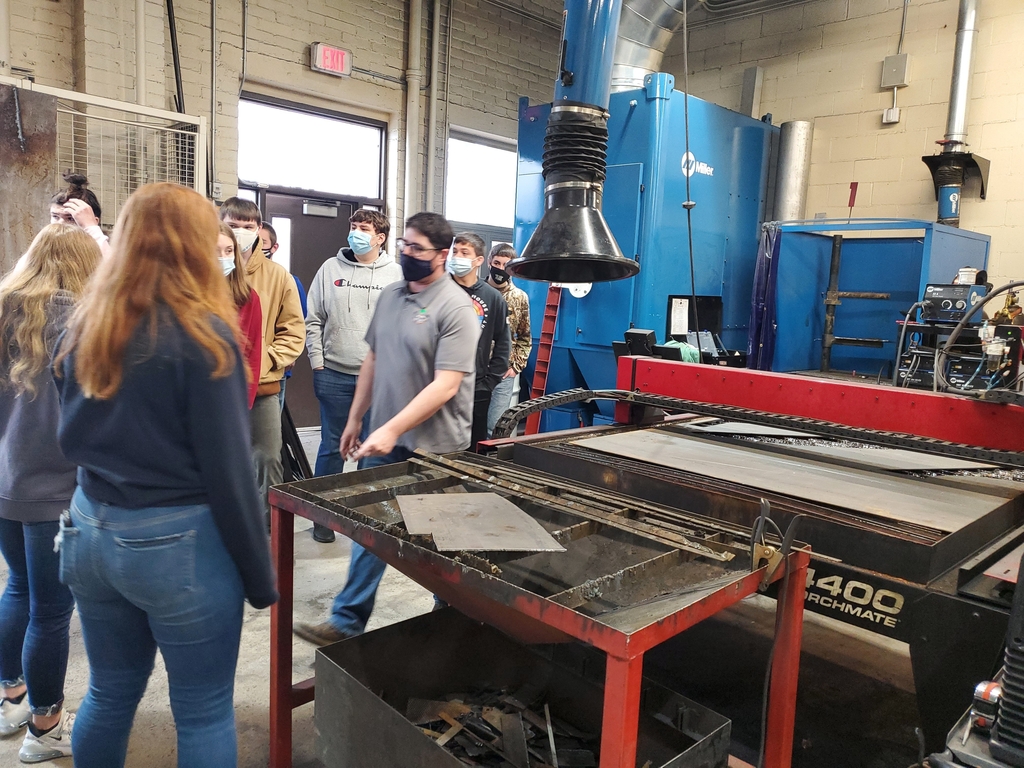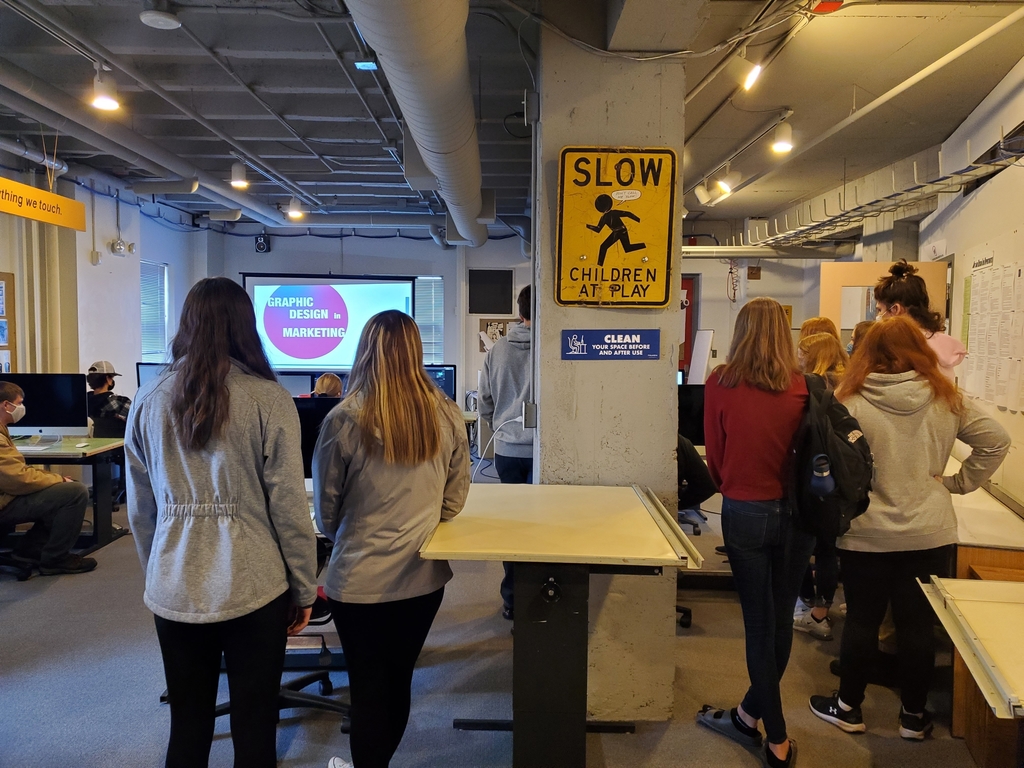 Stop number three- Automotive Tech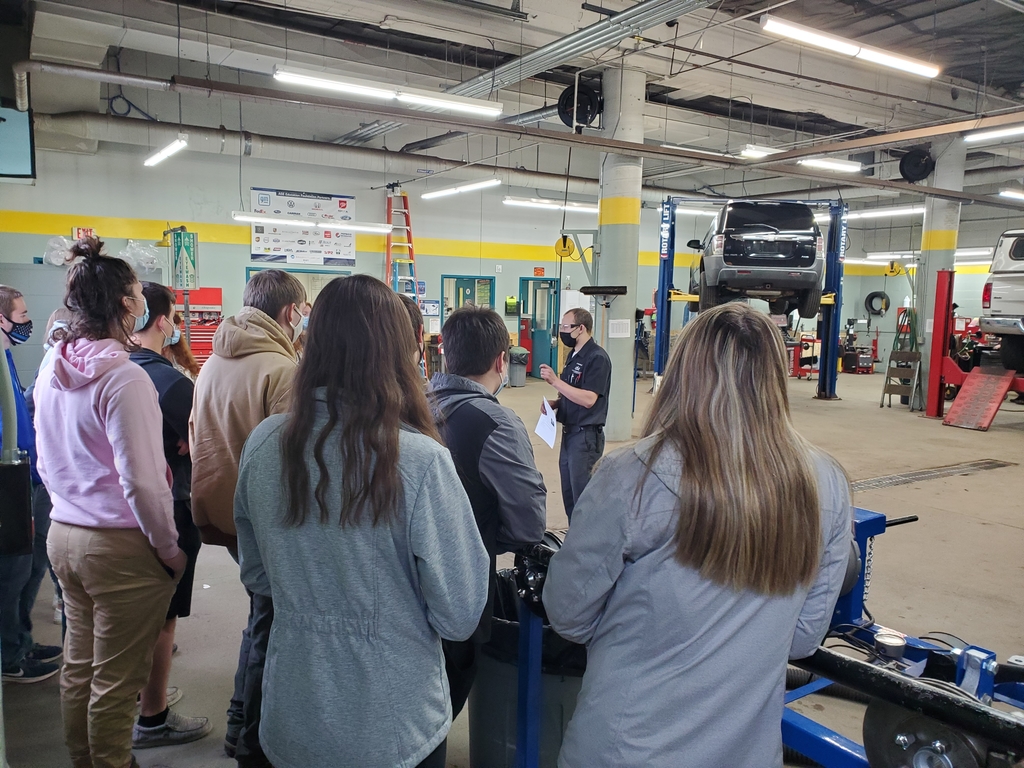 Stop number 2- Construction Trades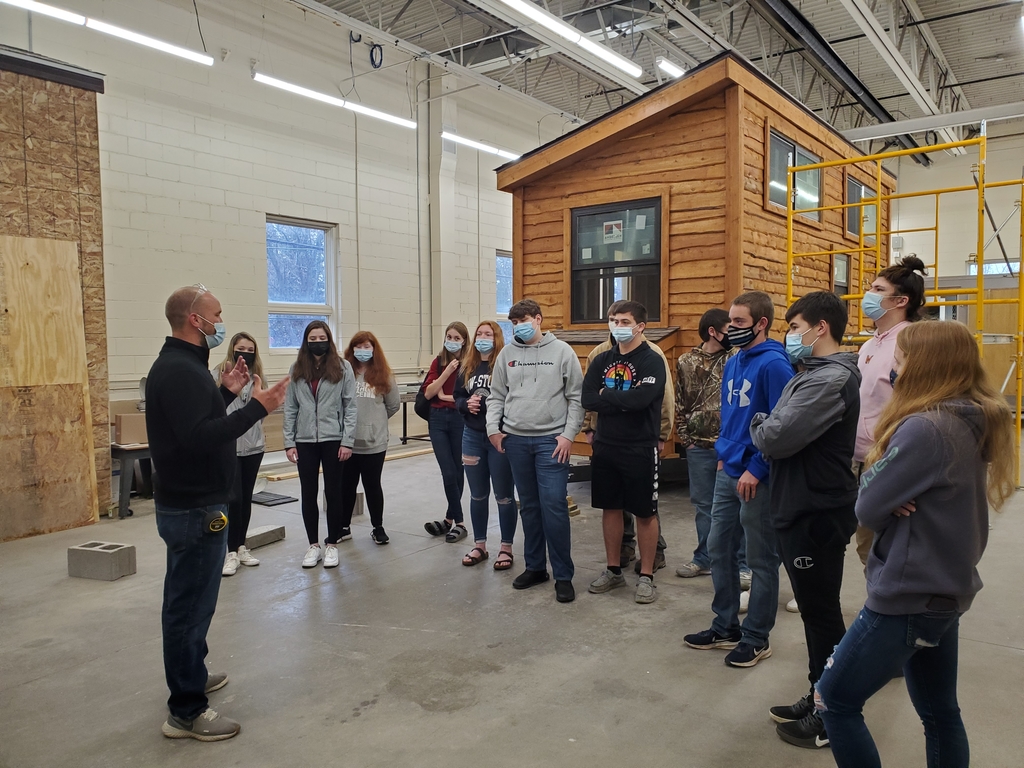 Stop number one for our field trip- Health Careers CTE Program.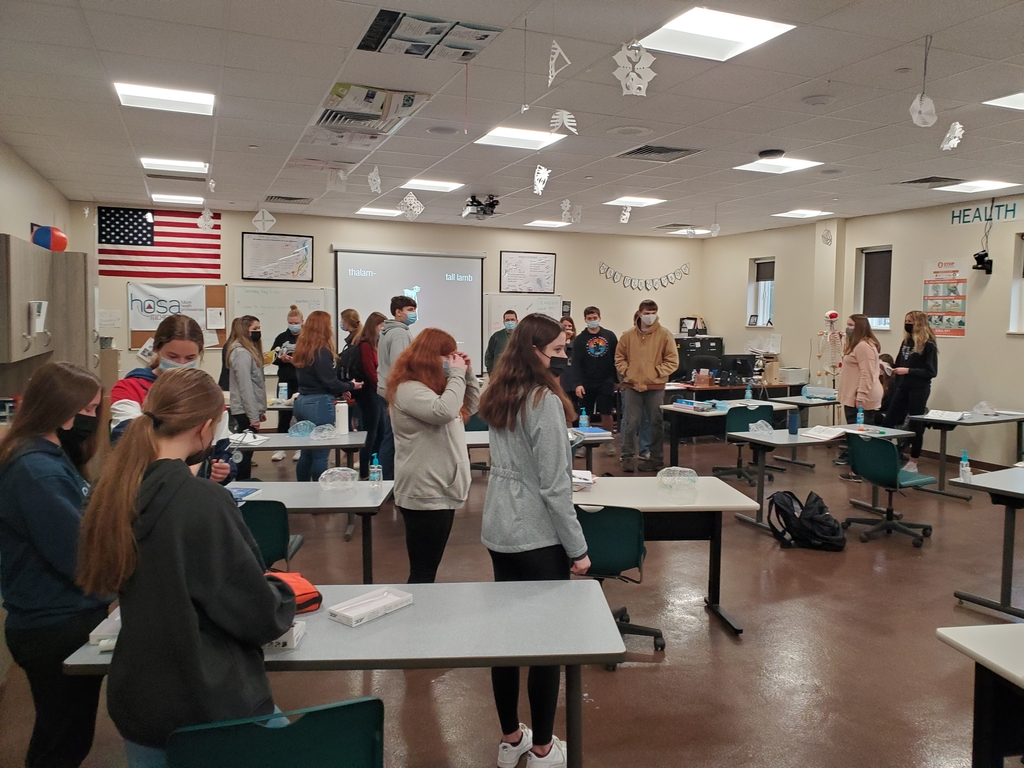 REMINDER: All non-quarantined 10th graders will be going to tour the CTE Center in Hancock, plus a new CTE program at MTU. We will be picking up pizza on our way home since we will not be back in time for lunch. Social distancing and masks will be required on the field trip. Please arrive at school on time as the bus will depart at 8:30.

Those students age 16-18 who would like a covid vaccine should have their parents call the BCMH hotline at 906-524-3471, and then select option 1, to leave their child's name and contact information so we can get them scheduled.